Katie Price defends autistic son Harvey against online trolls
Katie said on Instagram; 'People keep picking on Harvey and about his weight and speech give him a break jeez'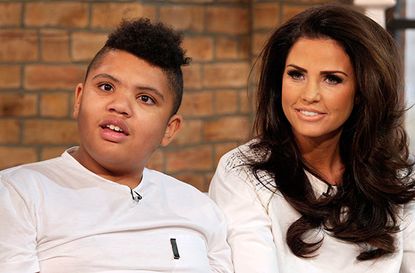 GoodTo newsletter
Sign up to the GoodTo Newsletter. You can unsubscribe at any time. For more information about how to do this, and how we hold your data, please see our privacy policy
Thank you for signing up to . You will receive a verification email shortly.
There was a problem. Please refresh the page and try again.
Katie Price has taken to social media this week to defend her son against vicious online trolls.
The mum-of-five, whose son Harvey, 13, has Prader-Willi-syndrome and is on the autistic spectrum, faced the cruel comments with a revelation of the full extent of his medical problems.
Katie said on Instagram; 'People keep picking on Harvey and about his weight and speech give him a break jeez'.
The former-glamour model called people 'sick' and in need of mental help if they continue to pick on her son, who is also blind, despite knowing about his diagnoses.
https://instagram.com/p/9A9-8WyRxw/?taken-by=officialkatieprice
https://instagram.com/p/9BFx05yR8O/?taken-by=officialkatieprice
The ex-I'm A Celebrity contestant snapped two pictures of official emails from Harvey's hospital, containing a heartbreaking list of illnesses.
They included Prader-Willi-syndrome, which causes compulsive over-eating, Attention Deficit Hyperactivity Disorder (ADHD), Tic Disorder, Obsessive Compulsive Disorder and 11 other diagnoses.
Harvey's father is footballer Dwight Yorke, who broke off his relationship with Katie after Harvey was born, describing her as 'vain and infuriating'.
Whilst Katie has had to contend with lots of negativity online, her legions of fans have also wasted no time in leaping to her defence.
One commented: 'You shouldn't have to explain yourself or your son's terrible condition to anyone. You are an amazing mother and a great inspiration to other mothers.'
Katie was named Celebrity Mum of The Year in 2012 and was shortlisted again for the award in 2015.
In a recent TV interview on ITV's This Morning, Katie spoke about the challenges of raising a disabled son.
'People tell me it's normal and so many use respite to have a break with their kids but I won't do it, I don't want to leave him.'
'I don't want to feel like I am letting him down by letting him go while I go and have fun with the others.'