Katie Price's mum Amy reveals she has left notes for her grandchildren to read after her death
Katie Price's dying mum Amy has revealed she's already written notes to her family to open following her death.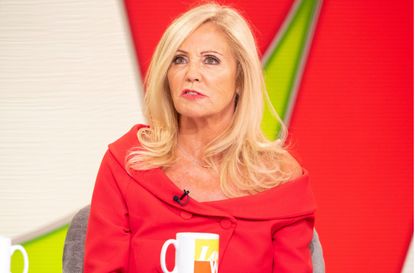 Katie Price's dying mum Amy has revealed she's already written notes to her family to open following her death.
The 64-year-old, who is suffering with a rare lung disease, spoke about the impact her illness is having on her family during an appearance on Loose Women, also admitting daughter Katie took her diagnosis the hardest out of everyone.
'Katie will be the figurehead of the family when I go,' Amy said.
'She's quite soft really. Out of all my children she's taken it the hardest. But I think she's accepted it now and we support each other.'
She added: 'I would say, now, I think she's coming out of the doom and gloom and she's really quite positive.
'I've written letters to them all. The one for Kate is going to be like this [thick]. I'll have to leave [her] instructions.'
Amy was diagnosed with Idiopathic Pulmonary Fibrosis last year, a condition that sadly has no cure, admitting she only has two or three years left to live.
But despite the gloomy outlook, Amy has refused to accept a lung donation from Katie, saying that she needs to put her children first.
She added on Wednesday's show: 'I can't take one of her lungs, it's ridiculous. Say if I had taken her lung, I might not survive the operation for a start; it'd be a waste of a lung. She's got her own family and her children.'
Katie revealed her mum's condition last September during an appearance on Loose Women.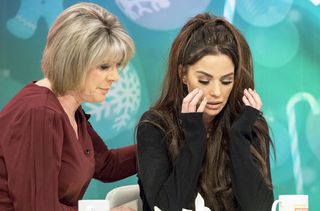 Speaking on the panel, she said: 'I don't want my mum to die… How can my mum die, it could be my last Christmas with her.
'My mum had a cough for five years, they thought it was asthma, then a few months ago she had a cold.
'She works out all the time. I hadn't seen her for a few weeks and I told her I couldn't see her because she's going to die. I told her: "I won't see you grow old, you won't see Harvey's 18th birthday".'
But speaking about it proved too much for the reality TV star, who broke down in tears and had to be led off by Ruth Langsford.
Parenting advice, hot topics, best buys and family finance tips delivered straight to your inbox.
A Freelance Writer and Content Editor, Jenni has been working on the women's lifestyle team at TI-Media on and off for over three years. She writes about your favourite celebrities and TV shows so you never miss an update. Jenni also writes beauty news and features - so for all of your skincare and make-up needs, drop her a line.