'I nearly aborted Harvey three times' Katie Price's controversial comments on first pregnancy
The mother-of-five previously said she couldn't go through with it...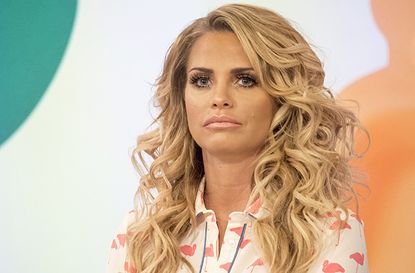 Katie Price (opens in new tab) has spoken about the difficulty she had deciding whether or not to terminate her first pregnancy with her son Harvey, after finding out the baby would suffer with severe disabilities.
'Three times I sat there with the cloak on with all the women. You know why you're all there,' she said during an appearance on Loose Women on Monday afternoon. 'But each time, I just couldn't do it.'
'They gave me counselling each time I went there and they talk about why you want it [the termination]. But I carried on having him.'
She added, 'They scan you and you hear a heartbeat. Some women are pressured by the men. There's so many reasons why they do it.'
Nadia Sawalha then asked Katie: 'You've had an abortion, haven't you?'
'I've had a couple,' she replied. 'It's nothing to be proud of. I'm so bloody fertile as you can tell.
'I think six-eight weeks is OK but anymore than that isn't.
'At 23 weeks, there are videos on YouTube, it's a baby. How would you want to abort it and give birth to it and see it gasp for air - and what? You're not going to help it?'
Kaye Adams interrupted, saying: 'Well hang on a minute, the stats are that it's 0.1% of abortions take place after 24 weeks - it's not a massive number.
'It tends to be if the mother's life is at risk or if the child has severe disabilities. Most take it seriously.'
This isn't the first time Katie Price has spoken about how close she came to terminating her pregnancy with Harvey, previously saying on Loose Women that she 'probably would have aborted' her son Harvey had she known the extent of his disabilities. In March this year her comments on the subject caused controversy and prompted Katie to reveal she was 'upset' that her comments were taken out of context.
The former glamour model was speaking about living with a disabled child when she made the revelation, but explained that she wouldn't make that decision now.
However, the Loose Women panelist later revealed on Twitter that she was 'upset' that her comments were taken out of context.
'I'm really upset people have taken out of context what I said on @loosewomen today', she tweeted. 'Harvey is my life and I am so proud of him!'
Thirteen-year-old Harvey, Katie's only son with footballer Dwight Yorke, suffers from Prader-Willi syndrome, a condition that affects his behaviour and and makes him constantly want food. He also suffers from autism (opens in new tab) and was diagnosed as blind at just six-weeks old.
'I was young when I had Harvey and I admit it, that if I knew he was blind before I had him, as harsh as it sounds, I probably would have aborted him, because to me it's like, "Oh my God, it's blind, how would I cope". I know it sounds harsh', Katie said on the programme.
'But now it's like, oh my god no way. If I got pregnant again and they said, "Your child's going to have disabilities" or anything, I would definitely keep it', she continued.
The 37-year-old star went on to confirm how far she has come, saying she would even consider adopting a child with disabilities.
'I would even adopt a child with disabilities', she said. 'Until you're in that situation, you don't know.'
The doting mother said her relationship with Harvey is 'challenging' but also 'rewarding'.
'I absolutely love Harvey so much. I would never change anything about him. Yes it's challenging, but it's also rewarding. He's a great character and I love him', she said. 'I don't think anyone should be ashamed at all if they've got a child with disabilities.'
Viewers were quick to have their say on social media, with some branding her comments as 'honest and brave'.
Others were not as keen, like Martin Peters, who said: 'Did Katie Price really say that if she'd known about Harvey she would of aborted him? he's Gona be thrilled when he hears that mind'.
Katie regularly speaks out about her older son's condition and the challenges it represents to her as a mum and the family.
Last year, in Channel 5's documentary Katie Price: In Therapy, Katie broke down when talking about getting extra care for Harvey.
'I won't do respite with him yet, because I don't want to feel like I'm letting him down. By letting him go, while I go and have fun with the others', the reality star said.