'Your vajajay is not the same' Kelly Rowland makes VERY honest admissions about her post-baby body
The singer is releasing a whole book for new mums, so there's plenty more where that came from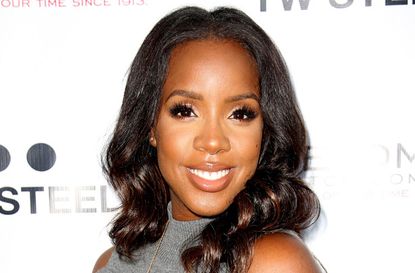 GoodTo newsletter
Sign up to the GoodTo Newsletter. You can unsubscribe at any time. For more information about how to do this, and how we hold your data, please see our privacy policy
Thank you for signing up to . You will receive a verification email shortly.
There was a problem. Please refresh the page and try again.
Kelly Rowland has opened up about life after labour with some very honest comments about her post-baby body.
It's always refreshing to hear celebs being frank and honest about their relationship with their bodies after childbirth, and it turns out that even when you're as toned and fit as Kelly, adjusting to changes can be more than a little daunting.
Speaking to the hosts of USA Today whilst promoting her new book, the former X Factor judge admitted that remembering to love herself after pregnancy had become an ongoing battle.
'I just had to keep reminding myself that, "You had a baby, Kel." But I was hard on myself, I really was.
'Throughout my pregnancy, but even more so afterward, Dr. B. [Tristan Brickman, Kelly's doctor and co-author] made me feel like what was happening to my body was completely natural. No matter how nasty or scary – the Frisbee boobs, the stretched out vag, the clumps of hair falling out every morning.'
During the interview, Kelly also shone a light on how post-baby grooming is a very different picture to what it was before: 'We go to get it all done up and trimmed and waxed, and this and that, and it's all swollen and crazy, and you're just wondering what just happened. Your vajajay does not look the same for a very long time.'
The 36-year-old singer has co-written a book for news mums, titled (incredibly) 'Whoa, Baby! A Guide for New Moms Who Feel Overwhelmed and Freaked Out (and Wonder What the #*$& Just Happened),' and if you've been loving her honest comments, you can expect more of the same candid insights as the ones she gave on the show.
Kelly became a mum for the first time in 2014, giving birth to a baby boy, Titan, with husband Tim Witherspoon.
Her former bandmate Beyonce, who gave birth to daughter Blue Ivy in 2012, was amongst the first to congratulate the family on social media after his arrival, writing: 'There's no better feeling than holding my nephew. I thank god for the honour of witnessing my sisters journey into motherhood. I've always dreamt of our little ones growing up together.'