'Not worth the money' Mum's review of bestselling Christmas toy Hatchimals goes viral
Her post has been shared almost 55,000 times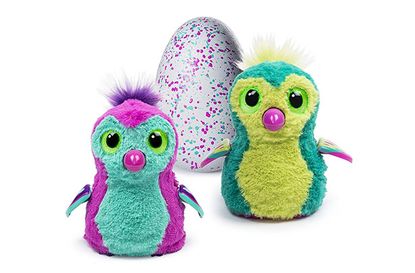 GoodTo newsletter
Sign up to the GoodTo Newsletter. You can unsubscribe at any time. For more information about how to do this, and how we hold your data, please see our privacy policy
Thank you for signing up to . You will receive a verification email shortly.
There was a problem. Please refresh the page and try again.
They've been described as 'the hottest Christmas toys for 2016', but one mum has taken to Facebook to explain why she thinks Hatchimals just aren't worth the money.
The toy, which retails at £59.99, is a colourful speckled egg which contains a pet - your 'Hatchimal'. After it pecks its way out of the shell, the Hatchimal can learn to walk, talk, play games and more, and many parents have been paying well over the odds to get their hands on one in time for Christmas morning.
However, Kirsty Myerscough says that her children have barely played with theirs since it initially hatched over a week ago.
'Thought I would write a review as all I'm seeing is parents desperate to get their hands on one,' she wrote in a Facebook post which has since been shared almost 55,000 times.
'So this one is 1 week old and has been played with for a few hour! The best bit was it hatching and then we had to break it out as it wasn't working! It grew up from a baby to fully grown in a few hours, it doesn't talk it just records the child's voice and plays it back, has a few games that are boring and once played they don't want to play again. All you can do is feed it by tilting it forward, stroke it when it gets cold and pat its head if it's scared.'
'Also once you take it out of the box it starts hatching takes around 20 mins to an hour so make sure your children are ready to sit with it and help it hatch. Overall not worth the money,' she concluded.
https://www.facebook.com/photo.php?fbid=10154809342086177&set=a.10150171903991177.341693.666881176&type=3&theater
Kirsty added that it wasn't just her that was disappointed by the much-hyped toy, saying that her review was actually based on the thoughts of her seven-year-old daughter, who received the toy for her birthday. Kirsty's mother had purchased the Hatchimal on eBay, and paid around £20 over the RRP.
Responses to her post have been mixed, with some arguing that the item is similar to previous popular toys like Furby, and they don't know what else people expected to see from the Hatchimal.
Others said that they'd been trying to source a Hatchimal for a loved one, but after seeing the review had rethought their plans.
'Sorry to hear this. I thought it would perfect for our 7 yr old granddaughter. Guess I won't make myself crazy trying to get one. Thank you for posting this,' one commenter wrote.
Another said: 'They have bad reviews everywhere that they're boring After a few hours. So was furby. Kids still want them!'
[apester]5832d71867075ce64999b1f1[/apester]