'It's so contagious' Kristen Bell reveals she caught threadworms from her daughter
The joys of parenthood...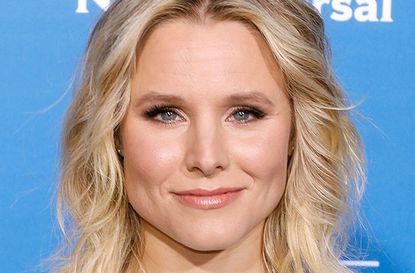 Kristen Bell has revealed that she recently caught threadworms from her youngest daughter, three-year-old Delta.
Parenthood comes with its fair share of gross situations, but Kirsten Bell's ordeal sounds even worse than the occasional poo explosion.
While appearing on Netflix's The Joel McHale Show, the mum-of-two opened up about getting threadworms - which are tiny worms in your poo - from her daughter.
'It was very itchy', Kristen said, before adding that 'fifty percent of people over 15 don't experience symptoms, which is the itch'.
The mum then went on to explain that children are usually the ones getting infected with the condition because they tend to scratch their anus when it's itchy, which is where the worms lay eggs.
'Your kids get them because they put their hands in their mouth and they lay eggs', she said.
As the eggs get stuck on their fingers, they can then pass on to anything you touch, like kitchen or bathroom surfaces, food or toys.
Treating the condition is fairly simple, but parents need to check for worms in their children' bottoms and in their poo, and Kirsten revealed she did see a tiny worm.
'Of course I immediately Googled it, and it's like, so, so contagious. You have to monitor and you have to look in their poop. And when you wipe their butt, sure enough, I wiped and saw a little white worm', she said.
'I know, she's really gross. My daughter, not the worm. The worm was gross, too', she joked.
The Frozen star, who's been married to Dax Shepard since 2013 and has another daughter called Lincoln, added that no else in their house got apart from her and Delta.
According to the NHS, threadworms - also referred to as pinworms - are 'tiny worms in your poo' that are very common in children and spread easily.
The worms look like pieces of white thread and can be spotted in feaces or around your child's bottom - they usually come out at night with children are sleeping.
Other symptoms include extreme itching around the anus (opens in new tab) or vagina, particularly at night, as well as irritability and waking up during the night.
Threadworms can be treated without seeing you GP, with a chewable tablet or liquid you swallow that you can get from pharmacies. Everyone in your household should be treated, even if they don't have symptoms.