Loose Women segment sparks huge debate over whether children should be forced to share their belongings
'I've had my children's toys broken or stolen by others'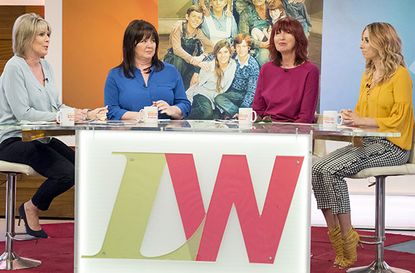 GoodTo newsletter
Sign up to the GoodTo Newsletter. You can unsubscribe at any time. For more information about how to do this, and how we hold your data, please see our privacy policy
Thank you for signing up to . You will receive a verification email shortly.
There was a problem. Please refresh the page and try again.
The Loose Women panel have sparked a massive debate after questioning whether or not children should be encouraged to share.
Hosts Ruth Langsford, Coleen Nolan, Janet Street-Porter and Stacey Solomon were discussing the issue in light of a recent viral Facebook post, where one mother said she was fed up of her son being told he had to share with other children.
'My child is not required to share with yours,' Alanya Kolberg wrote in her message, which has been shared more than 200,000 times.
'If I, an adult, walked into the park eating a sandwich, am I required to share my sandwich with strangers in the park? No! Would any well-mannered adult, a stranger, reach out to help themselves to my sandwich, and get huffy if I pulled it away? No again.'
'So really, while you're giving me dirty looks, presumably thinking my son and I are rude, whose manners are lacking here? The person reluctant to give his 3 toys away to 6 strangers, or the 6 strangers demanding to be given something that doesn't belong to them, even when the owner is obviously uncomfortable?'
'The goal is to teach our children how to function as adults. While I do know some adults who clearly never learned how to share as children, I know far more who don't know how to say no to people, or how to set boundaries, or how to practice self-care. Myself included.'
https://www.facebook.com/photo.php?fbid=289043001535340&set=a.129461207493521.1073741828.100012889261389&type=3&theater
The presenters had mixed views on the subject, with mum-of-two Stacey being the most vocal.
'First of all, she seems outraged that other children wanted to play with this toy, and I mean come on, of course they do!' she exclaimed.
'If my kids saw a toy at the park they'd be like "let me have a go". You either don't bring it with you, or I would explain to my children if you want to bring that toy out with you, your new toy that you really don't want to share with anybody, just know that you're going to have to face other people asking you to play with it, and then it's down to you to decide yes or no.'
'If it gets broken, it gets lost, that's your responsibility. Even though my youngest is five I would still say that they're the rules.'
'Moral of the story, don't let your child take a truck or toy that other kids are going to want to play with,' Ruth agreed.
Coleen queried: 'Are you saying that cos they're in a public place though? What if it was at home, do you think he'd have a right then to say "oh no it's mine?" Because I don't think you would,' to which Stacey responded: 'It's up to the individual child, but I'd then ask my child "are you just going to sit at home and play on your own for the rest of your life?"'
'Why is sharing so brilliant?' Janet asked. 'Let's not glorify sharing.'
Stacey added that Alayna's sandwich analogy was very different, because it wasn't about the interaction between the children. 'If he had food, I wouldn't say give away all your food son!' she quipped.
Twitter users have also had their say, with many saying that they 'totally agree' with the fact that children should not be forced to share their belongings if they don't want to.
'I totally agree about the not forcing to share. I've had my children's toys broken or stolen by others as the pressure to share,' one viewer wrote.
'Why should kids be taught to share everything all the time?' a second agreed. 'They should be able to choose when & what they want to share.'
'I wouldn't expect to be sharing a sandwich in public so why should a child be expected to share with complete strangers?' a third chimed in, whilst another tweeted: 'Teaching children to share gives them an impression everyone is like that. Kids need toughening up to survive these days.'
However, others believed that those who encouraged sharing were in the right. 'I'm with Stacey. The sandwich analogy is ridiculous. Of course you ain't going to share your lunch. Interacting? Fine. #LooseWomen' one stated.
Meanwhile, one questioned: 'What kind of crappy parent teaches their child not to share? #LooseWomen'
What's your take on the debate? Let us know your thoughts in the comment box below!