Marks & Spencer sparks controversy with 'padded bras' for children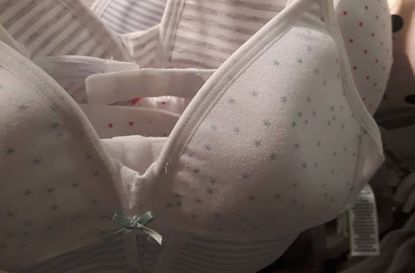 Marks & Spencer have sparked controversy on social media, after customers criticised the retailer for selling 'padded bras' aimed at children.
The product was first spotted by Laura Milatos, who shared her finding on Facebook writing: 'Shame on you Marks and Spencer for selling padded bras to children.'
Speaking to The Telegraph, the mum added: 'I was just browsing the children's clothes section before coming across the bras … I don't want to give my daughter the idea that bigger boobs are better.
'I want her to grow up knowing having a flatter chest is fine. The fact it was placed in the middle of the children's section just sends children the wrong message … I just find the generalised sexualisation of young children's clothes - like crop tops, bodycon dresses - disturbing.'
https://www.facebook.com/MarksandSpencer/posts/10156100605343612
The post sparked debate on Facebook, with some people agreeing with Laura. One said: 'As I understand it, due to various factors puberty is starting earlier for girls and boys, which could be why these are in the kid's section. Mind you, even if that is the case, pretty sure Marks are well aware that people will want padded products for icky reasons over and above comfort.'
However, not everyone agreed with the points she raised, with one commenting: 'Hardly "padded" , there is a just a thin extra layer which provides better support to a developing bust . Marks also sell the plain cotton crop top style , but many young girls find the first bra more comfortable to wear , according to my grand daughter. Surely that's what is important.'
Responding to the debate, a spokesman for Marks and Spencer said: 'There's no fixed age when girls should start wearing a bra; what matters is that they're able to access the right style to deliver comfort, support and modesty to a developing body.
'Some Angel bras are lightly padded to provide modesty under clothing. This type of bra is extremely common, and selling them is normal practice on the high street.
'We continue to listen to our customers, both Angel wearers and parents alike to ensure we have a range which suits all needs. We also comply with the BRC guidelines.'
What do you think of the product? Too grown-up or perfectly fine? Head over to our Facebook page and let us know your thoughts!
Mariana is a lifestyle writer who has written for Goodto.com and My Imperfect Life. She joined the Goodto.com team as an intern after completing her journalism MA at City University. After six months spent writing about food, celebrity news, and family trends, Mariana left to write for Healthy Food magazine - but returned in 2017, to join the Future team once again. In her spare time, you'll find Mariana in the kitchen cooking for her friends.