Matt and Carolin Dawson open up about their son's meningitis ordeal
Matt Dawson and his wife Carolin are urging parents to learn the symptoms of meningitis after their two-year-old son contracted the infection.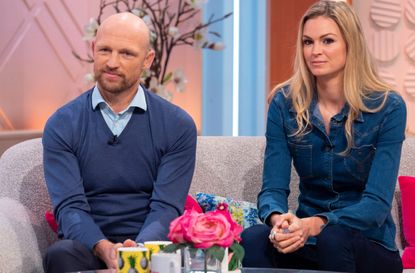 Matt Dawson and his wife Carolin are urging parents to learn the symptoms of meningitis after their two-year-old son spent weeks on life-support after contracting the infection.

The former rugby player and his wife Carolin appeared on ITV's Lorraine to open up about their terrifying ordeal after son Sami was struck down with meningitis B in February 2016.
Revealing Sami spent two weeks on life-support, the couple admitted they had no idea how critically ill their son was as they failed to spot the symptoms.
Matt said: 'That's the slightly embarrassing bit on behalf of Carolin and I really, we didn't know what the signs were – we didn't know that if Sami had cold hands and feet, even though he was really feverish, that's a little bit weird. I just remember thinking at the time, that's a little bit strange.
'In my mind now, the awareness that we're trying to get out there – if you understand those signs and pick them up – do something about it immediately.'
Admitting she was in 'shock' when Sami was put in an induced coma, Carolin explained: '10 minutes we went into hospital, loads of doctors around us. I sort of zoned out of life a little bit, I was just in shock.'
She added: 'I was told that he might not come home, I think it didn't cross my mind.'
Matt, who also shares son Alex with Carolin, praised his wife's quick thinking to take their son to hospital after she noticed spots on Sami's stomach.
'Absolute credit to Carolin, I remember her saying just once, something is not right,' he said.
Carolin added: 'I had two home births, I never go to hospital. There was a point when we saw the tiniest of spots on his tummy, when I panicked. It was a proper panic. We were still very lucky. The decision was made like that [clicks her fingers].'
The couple are supporting the Tackle Meningitis campaign, an initiative aimed at raising awareness and increasing the understanding of meningitis.
Matt said of the campaign: 'The reason why we're both with you here, it's not complex; we're trying to promote the awareness around meningitis. We're not trying to raise any money or funds.
'We know we slightly failed to a degree by not understanding those signs and symptoms, the cold hands and feet, the vomiting, the headaches. As a parent you know when your kid's is really, really ill.
'Trying to raise the awareness is the least we can do.'
A Freelance Writer and Content Editor, Jenni has been working on the women's lifestyle team at TI-Media on and off for over three years. She writes about your favourite celebrities and TV shows so you never miss an update. Jenni also writes beauty news and features - so for all of your skincare and make-up needs, drop her a line.