'I want them to live their lives' Matt Willis reveals why he won't stop his children trying drugs
'If they're going to take drugs, they're going to take drugs.'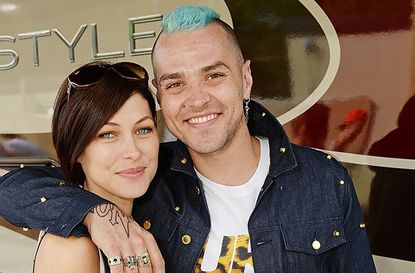 Matt Willis has opened up about how wife Emma supported him through his substance addiction and that despite going to rehab more than three times, he wouldn't stop his children trying drugs.
In an interview with The Sun, Busted singer Matt revealed details of how his wife Emma has helped him stay sober and his thoughts on keeping his children away from drugs.
The Crashed The Wedding singer revealed he went to rehab more than three times in three years at the lowest point of his addiction, but that ultimately it was TV presenter Emma that stuck by him and helped him get sober.
Matt admitted that, 'it was testing' but thanked his wife for standing by his side.
'There were times when we thought we couldn't carry on any more. Unfortunately it was always down to me as it was always my s**t f**king it up. I'm so thankful to her because she really helped me through that, and now life is great.
'She's f**king amazing and stuck with me the whole time. I don't know why.'
Matt admitted he has stuck to a strict routine over the last eight years, staying away from all drugs - even painkillers.
'Now I don't drink, take drugs or painkillers. I don't take anything because I've learned that I don't behave the same way as other people. If there's anything you can take too far, I'll take it too far.'
The 33 year old uses a morning routine and mantra to help himself get through the day soberly.
'I have a morning routine. I say little things to myself or to whoever the f**k I'm talking to like: "Please keep me sober today." Every single night I say thanks for keeping me sober today, and that's something I've done for eight years. It makes me feel like I've achieved.'
But despite his wild past and partying ways, the singer can't say he will ban his children from drugs.
'I've thought about that quite a lot. I don't think there's anything I can do. If they're going to take drugs, they're going to take drugs.'
Being a dad of three, Matt certainly has some experience in parenting and has decided to let his little ones make their own mistakes.
'I can tell them why I think certain things are dangerous, but do I want them not to smoke weed at college and go to parties and have great times with their friends? I don't know if I want to be that guy. I want them to live their lives and find out s**t for themselves.'
Commenting on his brood, Matt gave an insight into his hectic family life with anecdotes of sleepless nights that many parents can relate to.
'It's a bit full-on! My youngest is teething, so last night I had two-and-a-half-hours' sleep in 45-minute chunks. But it's f**king awesome and I love being a dad. My favourite thing in the world is a movie night with them.'
But despite obviously loving parenthood, we won't be hearing the tiny patter of a fourth pair of feet, as Matt revealed that both he and Emma, 40, have ruled out any more children.
When asked if Emma planned on becoming pregnant again, Matt said: 'No! No more babies. We're both 100% agreed.'
Trusted, informative, and empathetic – GoodTo is the ultimate online destination for mums. Established in 2007, our 15-year-strong archive of content includes more than 18,000 articles, 1,500 how-to videos, and 7,000 recipes.