'One of my biggest regrets' Mum's heartbreaking viral photo prompts parents to feature in more pictures
'Hindsight is always 20/20'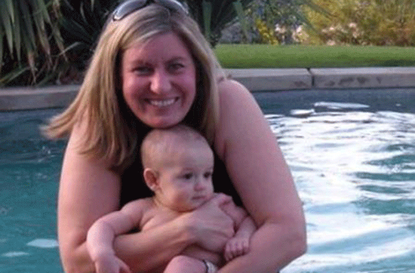 A woman's photo has gone viral after sharing an emotional message about the importance of being in pictures.
Michelle Steinke, who blogs under the name One Fit Widow, shared an image of herself from 2008, telling her 420,000 followers that one of her biggest regrets was not being in more photographs when her family was young.
'I suppose we all have regrets,' she wrote alongside the snap, which shows her cuddling her baby son at the time. 'We shouldn't, but we do.'
'One of my biggest regrets is that I wasn't in many photos. My self-hate and loathing kept me from taking photos of my babies and photos with the man I loved.'
'Hindsight is always 20/20. I can tell you now it was stupid. I can tell you my kids loved me regardless of my weight. I can tell you my husband loved me irrespective of my body.'
Referring to the subsequent loss of her husband in 2009, she continued: 'I can tell you when he was gone and they started to grow I regretted not being in more photos and loving the life I was living when I was living it.'
'The day he died, all I cared about was the memories we made, the trips we took and the photos of our whole family. I regret not being in the photos. Perfection is a myth.'
https://www.facebook.com/OneFitWidow/posts/917822095026724
Michelle has lost 70lbs and become a dedicated fitness fan since the picture was taken, but says: 'You can always work on improving yourself but this moment will never come again. Don't waste it wishing you were more.'
'You are enough, right now, right as you are. Take the photos. Love your life. Don't regret what you can control.'
The post has a huge response from Michelle's 420,000 followers, with over 800 reactions and almost 100 shares so far.
'I took the photos of my kids, never once did anyone offer to take a photo of me and them,' one commenter empathised. 'Shame is mine for never asking. I also have no baby photos of me with any of my children.'
'I started taking pictures with me in it. I'm not a big fan of my double chin, but my family loves me that way and I'll take the pictures,' another admitted. 'Thanks, as always, for the reminder'.
Michelle also shared a similarly inspirational attitude in a previous piece for Babble, saying: 'You shouldn't stop living because you think you should be more fit, weigh less, or look different. You can always love yourself while you work to better your health and fitness. This moment is your life … don't miss it.'
'At any moment, your life could change for the worse, so embrace the moments, love yourself, love your family, and make time for the people who matter.'
Trusted, informative, and empathetic – GoodTo is the ultimate online destination for mums. Established in 2007, our 15-year-strong archive of content includes more than 18,000 articles, 1,500 how-to videos, and 7,000 recipes.