'Surprise: You've been drinking breast milk' - Mother pranks thieving colleague in the best way!
Would you surprise a work colleague like this?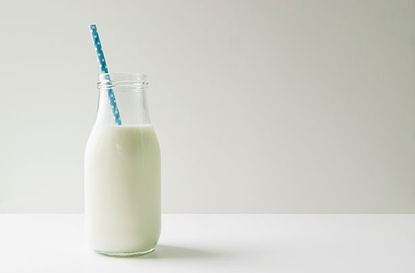 It's happened to us all - you buy something for the week, pop it in the fridge at work and by Tuesday it's disappeared. But one mum got the ultimate revenge on a colleague who kept stealing her milk.
The Reddit user was so fed up with someone constantly stealing her milk that she put a post-it note on the bottle at the end of the week, telling them it hadn't been the normal milk they thought they were drinking.
Instead, she wrote on the note that they'd actually been drinking her breast milk! A photo, shared to the Breastfeeding Mama Talk Facebook page, shows the note which reads: 'Good morning. To whomever has been enjoying my coffee creamer all week... Surprise!!! You've been drinking my breast milk. Hope you've enjoyed - cheers!'
The hilarious note, originally posted to Reddit, has been liked 12,000 times and shared nearly 5,000 times.
Just in case the milk-drinking thief was worried about drinking the milk, she had an extra message for them: 'P.S. It's organic. So no worries.'
https://www.facebook.com/bfmamatalk/photos/a.471668436214912.96317.411182815596808/1086814708033612/?type=3&theater
One user loved the woman's idea: 'I would find out who it was and charge them for the great nutritional supplement they got for free.'
Another commented: 'Bet they felt great that week and didn't know why'.
One even owned up to using breast milk all the time: 'If I run out of milk or creamer I use breast milk - It's seriously the best coffee creamer.'
Last year it was reported that there's been an increase in breast milk bought online by adults, due to the suggested health benefits. However, the Journal of the Royal Society of Medicine called for regulators to make it clear buying breast milk online is not safe.
In June Ayda Williams, Robbie Williams' wife, claimed on Loose Women that Robbie sometimes drinks her breast milk.
Do you think the woman's prank is hilarious, or a step too far? Let us know in the comments below!
Sarah is a freelance journalist, writing for various women's magazines and national online consumer titles including the BBC and The Daily Mail, for over 10 years. Sarah has interviewed CEO's, real-life case studies and celebrities. Writing on everything from travel to fitness, and business to beauty - some of her features have been read by millions of people - in just one day.