Mother shares heartbreak after her son choked to death on a party favour meant to be safe for his age
Alby tragically died last week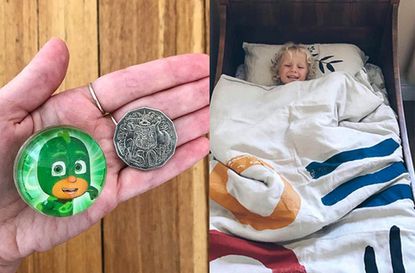 GoodTo newsletter
Sign up to the GoodTo Newsletter. You can unsubscribe at any time. For more information about how to do this, and how we hold your data, please see our privacy policy
Thank you for signing up to . You will receive a verification email shortly.
There was a problem. Please refresh the page and try again.
A mum has shared her heartbreak on social media after her three-year-old tragically choked to death on a party favour meant to be safe for his age.
Anna, from Tasmania in Australia, shared the sad news of her little boy's passing on her Instagram, with a tribute to 'sweet Alby'.
She wrote: 'Yesterday afternoon, our beautiful, beautiful Alby, our darling baby boy, grew wings and flew from this earth. Minutes pass like hours and the gaping hole in our lives and hearts is completely incomprehensible. We adore you beyond belief, our sweet little fox. Forever three, forever free 🕊'.
A GoFundMe page (opens in new tab) was set up to financially help the family - as both Anna and her husband are not entitled to paid leave while they grieve - where they explain how Alby tragically died.
The little boy was playing with a bouncy ball that was meant to be a party favour for his upcoming fourth birthday party, when it became stuck in his windpipe and caused him to choke.
Anna, who's currently pregnant with her fourth child, tried to save him by performing CPR, but sadly her efforts didn't work.
The page reads: 'On Monday afternoon, the unimaginable for any parent occurred. Darling Alby was playing with a bouncy ball that had arrived earlier that morning, in a package filled with party favours for his upcoming 4th birthday celebrations.
'The ball became stuck in his windpipe, preventing his ability to breathe, and in a matter of seconds, despite his mama's frantic attempts to save him, he passed away in her arms.'
After getting criticism for letting her boy play with the toy, the mum clarified that the ball was recommended for children older than three years old - which was Alby's age.
She wrote on an Instagram post, alongside pictures of the ball with a coin for size comparison: 'To very briefly clarify some of the most widely spread misconceptions - yes, I of course tried to save our beautiful boy (including, but not only, undertaking CPR for 16 excruciating minutes until paramedics arrived), I was three feet away from Alby when the incident occurred and was by his side within seconds, the ball was larger than the 50c piece/film canister size-recommendation for toys given to young children, and the ball packaging states "not for children under three years" - being only a few days away from turning 4, Alby was almost one year older than this advice.'