Mother argues that you shouldn't tell your children they are beautiful
What do you think?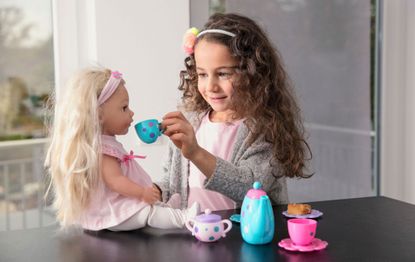 GoodTo newsletter
Sign up to the GoodTo Newsletter. You can unsubscribe at any time. For more information about how to do this, and how we hold your data, please see our privacy policy
Thank you for signing up to . You will receive a verification email shortly.
There was a problem. Please refresh the page and try again.
A mum has sparked debate after revealing she never tells her daughter she is beautiful because it may have harmful consequences.
Are you the kind of person who can give a compliment but can't take one? Maybe you worry about when it's appropriate to say something nice or you're too modest to accept someone's kind comments about you?
What about when it comes to your children, or your friends and family's children – is that more or less complicated?
If your friends share the same opinion as Anna Wharton you could find yourself in a tricky situation the next time you call their little girl pretty...
Anna firmly believes that you should not compliment children's looks as it could lead to harmful longterm consequences like thinking that a woman's beauty is her 'crowning achievement'.
On the other hand, parenting expert and mum-of-four Liz Frazer criticised Anna's approach and said too many parents are frightened about complimenting their own or other people's children.
She explained to This Morning hosts Eamonn Holmes and Ruth Langsford that calling someone beautiful is very different to complimenting just their appearance.
Liz said: 'I have always told them [my children], at the right moment, "you're beautiful, you look really, really nice". Beautiful is not the same as good looking. Beautiful is about you the person, about the character who you are. We're too frightened to say positive things about looks these days.'
Anna and Liz debating whether you should compliment children's looks
Although Anna did stress that she doesn't think you should never call your children pretty, she just thinks there should be a balance, Twitter users were overwhelmingly in favour of Liz's approach.
One person wrote: 'I tell my daughter she is beautiful EVERY SINGLE DAY. She is 4 years old and is a beautiful soul, inside and out. I also tell her she's clever, brave and strong. Beautiful doesn't equal vain or weak, inside and out all children are beautiful.'
Another added: 'I tell my children every day that their beautiful. Inside and out, because I love them and they are my world.'
A third explained: 'Bit sad if you cant tell your children they are pretty, beautiful etc, children need to be told these things as well as how clever they are and how proud of them you are. As adults we loved to be told by our partners we are beautiful and pretty etc so why shouldn't children?'
What do you think about the debate? Do you compliment your child's looks or do you consciously try not to? We'd love to hear your opinions and any awkward experiences you've had with family or friends as a result of this debate. Head over to our Facebook page to get involved!