Mum of 16 children shares heartbreak of cancer diagnosis
Jeni has thankfully since been given the all clear.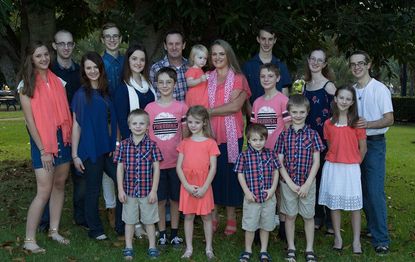 Jeni Bonell has 16 children with her husband and was devastated when doctors found seven lumps in her throat, which turned out to be thyroid cancer.
Jeni is mum to Australia's biggest family and while she thought managing a household of 18 people was tricky enough, nothing could have prepared her for the news that she had cancer.
She received the devastating news following a routine check up that was meant to last 10 minutes. The appointment ended up taking four hours and resulted in her diagnosis.
Speaking to A Current Affair alongside her husband Ray, Jeni explained: 'It was a bit of a shock to go to a specialist and have them say the word "cancer" to me. You just never think it's going to be you so I was just really unprepared for that.'
She also discussed how her diagnosis affected the whole family.
The 49-year-old mum said: 'When we spoke to the kids, we had some that went really quiet, some burst into tears and some that weren't angry with me but I think they just wanted to push it away, they didn't want to know.'
Ray revealed he was devastated by his wife's illness and feared for the family.
'It's very scary knowing you may lose your life partner to a terrible disease like this,' he said. 'And then on top of our situation to have to raise 16 kids on your own is very, very scary. I definitely need her around to do that.'
https://www.facebook.com/TheBonellFamily/photos/a.1440312009533510.1073741827.1440296106201767/1784807781750596/?type=1&theater
Thankfully Jeni has now been given the all clear after having her thyroid removed. She'll have to be tested every six months for at least the next 15 years in order to make sure the cancer has not returned.
Jeni and Ray are from Toowoomba, Queensland Australia. Their children range in age from 28 to four but they haven't ruled out baby number 17.
She joked: 'A lot of those doctors have gone "okay, I'm happy with your results, now go have more children", or maybe I have to wait for grandbabies'.
Jessica currently works as a Senior Food Writer at Future. She writes food and drink-related news stories and features, curates product pages, tests, and reviews equipment, and also develops recipes that she styles on food shoots. An enthusiastic, self-taught cook Jess adores eating out and sharing great food and drink with friends and family. She has completed the Level 1 Associate course at the Academy of Cheese and is continually building on her knowledge of beers, wines, and spirits.