Woman asks if she's 'a selfish, s**t mum' after admitting that she finds the 'baby stage' boring
Many mums were in agreement...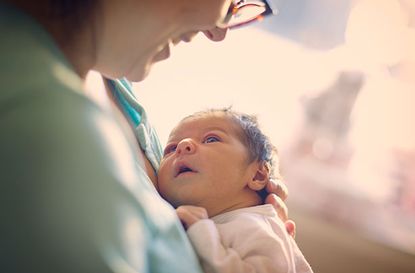 A woman has asked if she's a 'selfish, s**t' mother because she didn't enjoy her daughter during the 'baby stage'.
Posting as StrawberryMumm90 on popular parenting site Mumsnet, the woman explained: '... [after my second daughter] I realised I don't really enjoy the baby stage much at all.'
'Feeding, sleepless nights etc. I don't enjoy them depending on me for their every need and I find myself daydreaming about DD1 being a few years older and having more conversation.'
She finished the post by asking her fellow users: 'Just wondered what age you start to really enjoy [having children] or have you just loved every minute from the new born stage and I'm just a selfish, s**t mum?'
'I liked the new born baby bit the best,' one user said in response. 'Loved changing, dressing, feeding the lot. Growing up as a child I was inseparable from my baby dolls and having a real life one was the dream for me.'
However, most other mums were in agreement with StrawberryMumm90, with another writing: 'Hated the baby stage. Tiring, relentless and both hard work and mundane and the same time.'
A third admitted: 'Currently going through the newborn phase for the first time.. it's enough to put me off ever having more children... I look forward to when he less dependent on me.'
She also reassured the mum: 'I think your feelings are completely normal'.
These comments prompted the original poster to reply with: 'Nice to see I'm not the only one who feels like this!', before going on to say that she wanted more children in the future as she didn't feel her 'family was complete'.
'But then I think, why would I do that to myself all over again?' she questioned. 'I just don't feel the reward other mothers feel.'
Another mum offered support by posting: 'From about 3, I never want to repeat those first three years again! He's 4 now and he's awesome. It helped when he started to talk and string sentences together.'
Several other parents have since shared comments revealing that their babies bored them too and they only really started enjoying their kids when they were older.
One said: 'Life begins when the youngest one is 3!'
What do you think? Did you like the baby stage? Let us know in the comments box below.
Trusted, informative, and empathetic – GoodTo is the ultimate online destination for mums. Established in 2007, our 15-year-strong archive of content includes more than 18,000 articles, 1,500 how-to videos, and 7,000 recipes.