Mum blogger slams 'Pram Snobbery' after feeling pressured to buy expensive pushchair
'Turns out Pram Envy is a 'thing'.'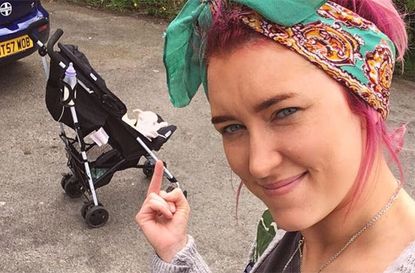 A mum blogger has spoken out about the world of 'Pram Snobbery', admitting she felt pressured to buy an expensive pram for her child because of judgement from other mums.
Gylisa Jane, a mum from Cornwall, has slammed 'Pram Envy' in a recent Facebook post in which she speaks honestly about the soaring prices of prams.
The mum-of-one admitted that before giving birth to her child, she hadn't ever considered how much prams could cost, or how much having the right pram would matter to her.
'Turns out Pram Envy is a 'thing'. When I was pregnant, I gave less than half a sh*t about what type of pram we got. One with wheels and that went along was all I cared about.
'I hadn't noticed prams before, or even really cared. But now I was introduced to the world of Pram Snobbery.'
In her post, which has been liked over 58k times, Gylisa recounts her first visit to Mothercare to suss out what pram she would be purchasing for her bundle of joy and the shock she was met with at discovering the average price.
'So we went to Mothercare a few weeks before D Day - and had a look around the prams in there.
'I learnt that everyone else is either way richer than me, or it's just normal for a pram to cost more than we've ever spent on a f***ing CAR.
'I read the specifications on those things, and apparently for a pram that costs the best part of a thousand pounds - it won't change a nappy, drive itself, or be worth anything as an heirloom.'
The blogger describes how she chose a second-hand pram for her newborn, but when a year later her daughter didn't fit inside any more, she needed to purchase a shop-bought version.
https://www.facebook.com/gylisaa/photos/a.1290844670942732.1073741827.1290836040943595/1696855330341662/?type=3&theater
It was then that Gylisa made the empowering decision to let go of her 'Pram Snobbery' and took a trip to budget supermarket Aldi.
'We decided to take the plunge and buy an actual Shop Bought Pram. ( They had a special buys offer in Aldi 😂)'.
'After parting with a solid £40, I was excited to join the 'New Pram' club. Yes, everyone else's was worth at least 10x what mine was... But mine actually came out of a BOX this time, and not off a car boot stall for a tenner...'
The mum's hilarious epiphany came when she realised that after all of the thought she'd put into buying her daughter a pram, now that she could walk she never wanted to sit in the pram anyway!
'No one tells you, when you are parting with your ( or someone else's) hard earned cash.. That you can have the Top of the Range, Ferrari-equivalent, Needed a loan for, flashiest pram in the whole world...'
'But when they can walk, will they sit in it ? Will they f*ck.'
https://www.facebook.com/gylisaa/photos/a.1290844670942732.1073741827.1290836040943595/1693973120629883/?type=3&theater
Gylisa's post has gained support from thousands of mums, with many saying they regret the amount of money they spent on their child's pushchair.
One Facebook user said, 'I agree it is extortionate and not worth it. I have an oyster 2 and yes I love it and yes at £550 it is alot of money, but not as expensive as some. Anyway lesson learned IF i have another child I will think twice about buying an expensive pram!! Cheaper pushchairs do the job are easier to use and get about with!! No brainer really!!'.
Another agreed, 'Got second hand ! No way am I paying 500 or more for new i know some people have paid a grand !!'.
Did you feel the pressure of 'Pram Snobbery' when buying your first pram? Let us know in the comments below!