Mum criticises Primark's 'First Bra' range for sexualising young girls
Mum and actress Emma Linley wants to get the padded bras banned from all Primark shops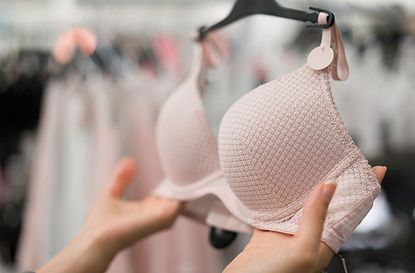 A mum has criticised Primark for selling a range of padded bras to girls as young as seven.
Mum and actress Emma Linley, 43, was horrified when she was shopping with her daughter and saw the shops 'My First Bra' range for seven to 13-year-olds.
Emma, who used to star in Channel Five soap Family Affairs, told The Sun: 'Do Primark sell padded pants for seven to 13-year boys to make their genitals seem bigger?
'So boys are okay as they are but girls need enhancement?
'I have two young girls. I do not want them facing puberty with this crap to deal with.' The actress is hoping to get the bras banned in all Primark stores.
Her complaint to the newspaper came as many other parents complained about it on Twitter too - sharing their own anger at the high street store selling the padded bras for children.
One Twitter user shared a picture of the bras on the weekend, along with the comment, 'Horrified that @Primark are selling padded bras to children aged between 7-13! #Toomuchtoyoung #Children #sexualisation'
While another did the same, with the comment, '@Primark why are you selling padded bras to children? Why would my 8 year old need a padded bra? This has got to stop! Please #LetKidsBeKids'
However the shop denied that the claims, with a spokesman telling the Metro.co.uk: 'This allegation is simply wrong. We would like to be absolutely clear that these bras are moulded, not padded.
'My First Bra' ranges are designed and constructed purely for support, comfort, and modesty and adhere to the BRC's childrenswear guidelines. There is no enhancement.
'This type of moulded bra is extremely common, and selling them is entirely normal practice on the high street.'
What do you think about the Primark bra range? Tell us in the comments below.
Sarah is a freelance journalist, writing for various women's magazines and national online consumer titles including the BBC and The Daily Mail, for over 10 years. Sarah has interviewed CEO's, real-life case studies and celebrities. Writing on everything from travel to fitness, and business to beauty - some of her features have been read by millions of people - in just one day.