Anxious first time mum admits she wants to wash her baby's teddies after every playdate
Mum worries she's OCD because of washing baby's teddies so much.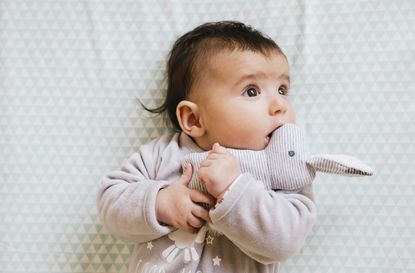 An anxious first time mother has been urged to relax after admitting she feels the need to wash her baby's toys every single time someone else has touched them.
The concerned mum took to parenting forum Netmums to ask fellow mothers if she was being too OCD in regards to her child.
She began the post by writing: 'You will probably all think I'm mad but I have a 3 month old son who's just started teething so is sucking and biting everything he gets hold of, he has loads of teddies but 2 that he has all the time and chews on, my friends had been round to the house and had been touching these teddies and putting them on the floor so I gave them a sink wash that night.
The mum continued: 'They took 2 days to dry as they are knitted and when they had finally dried my friends were over again and picked them up off the radiator and started touching them all again... I got really wound up but didn't say anything because they had just got off the train and I can't help but think of all the dirty hands on trains which are now again on my sons toys which he is going to put in his mouth.
Desperately seeking some advice, she then asked: 'Am I being ridiculous wanting to wash them again and getting annoyed at people for touching his toys AGAIN? or should I leave the toys and not wash them? PLEASE no horrible comments I'm a first time mum and stress out about these silly things.'
The mother-of-one was met with several sympathetic responses, with other mums sharing their similar experiences.
One woman commented: 'I'm exactly the same! A lot of people will probably think it's over the top, but the floor and public places could have any sorts of germs on them! I also expect clean hands before holding my baby, he's almost 4 months.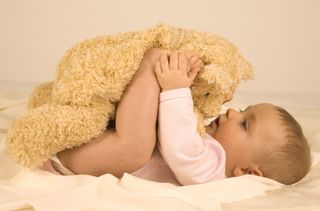 'Some people don't think about germs. I suppose babies will come into contact with these things eventually, but I totally understand you!'
Another mother wrote: 'Some people just don't think. I have been in the same boat as you because as you said some people just don't wash their hands and its kind of silly in my eyes that a full grown adult would even think to pick up your 3 month babies toy knowing their hands aren't clean. Ive had to tell a health visitor to wash her hands once i could see the dirt in her nails looked like she had just been gardening.'
However, many users told the mother to 'relax' and reminded her that germs can be good for children in order to build up their immune system.
'Babies will be rolling off their mats at around 6 months and need to explore with their mouths shoving dummies in inhibits this and early communication which is why advice is to reduce usage for times of sleep and real distress,' one woman explained.
'They need to get messy and explore without being stopped and wiped every few minutes, germs are good for us within reason.
'Its normal to be anxious with our new babies but they are actually more resilient than we give them credit for, try to relax and enjoy being a mummy.'
Words by Kirsty McCormack
Parenting advice, hot topics, best buys and family finance tips delivered straight to your inbox.
Trusted, informative, and empathetic – GoodTo is the ultimate online destination for mums. Established in 2007, our 15-year-strong archive of content includes more than 18,000 articles, 1,500 how-to videos, and 7,000 recipes.