Mum accused of 'starving' her daughter after revealing what she packs in her lunchbox
A mum has been accused of 'starving' her eight-year-old daughter because of what she packed in her lunchbox.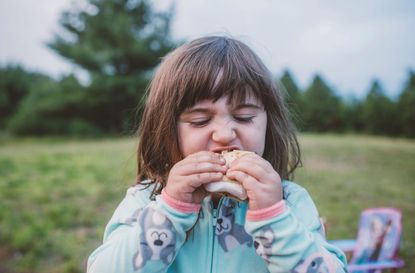 A mum has been accused of 'starving' her eight-year-old daughter because of what she packed in her lunchbox.
The worried mum shared her concerns on parenting forum Mumsnet after revealing a friend was 'aghast' when she saw the amount of food she had packed for her child to take to school.
Insisting her daughter is a healthy weight and height, the mum shared: 'I've just been told by a visiting friend I'm basically starving her when she saw her lunch!'
She then listed the food items which included; '1 mini pitta, 6 mini breadsticks, dessert spoon of houmous, dessert spoon of guacamole, 6 big strawberries cut up and a frube'.
She added: 'That's fine isn't it?? For breakfast she had a bowl of plain yogurt and loads of berries. She will most likely have an afternoon snack usually cheese or a piece of fruit and dinner is normally casserole/fish pie/jacket potato and soup or similar.
'She has milk before bed. She's fine !! Always has small snacks lunches and doesn't complain of hunger. Friend was aghast and said her kids at 18 m old ate more than that'.
Parents appeared to be divided on the food portions, with many commenting that they did seem rather small for an eight-year-old.
One said: 'That does sound on the small side for an 8 year old, it's more what I'd expect for a 5 year old.'
Another said: 'My toddler would starve on that ! There is nothing substantial there. Where is the protein?'
A third simply said: 'I think that's not very much.'
But others advised the mum to ignore her friend, reassuring her that she knows what's best for her own child.
One said: 'Honestly would not worry, as long as she is getting a broad range of foods over the course of the week then she will be fine.'
Another commented: 'Ignore your friend. Your DD would let you know if she was still hungry. If that's how she normally eats with no complaints and weight is fine then there's nothing wrong with that'.
And another added: 'Every child has different appetites, as long as they're happy full and not hungry then what's the harm. Ignore your friend.'
A Freelance Writer and Content Editor, Jenni has been working on the women's lifestyle team at TI-Media on and off for over three years. She writes about your favourite celebrities and TV shows so you never miss an update. Jenni also writes beauty news and features - so for all of your skincare and make-up needs, drop her a line.