Mum who lost her newborn son hits back at cruel 'not a real mum' comment
'We are all mums'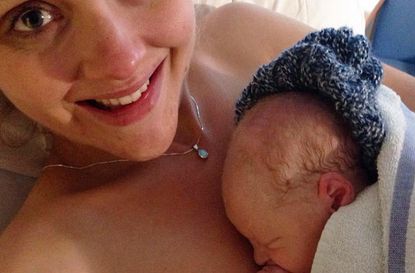 Blogger Elle Wright (opens in new tab) has opened up about breaking the silence around loss after receiving a thoughtless comment following the death of her firstborn.
Edward Constantine Wright, or Teddy as Elle and her husband called him, was born following a full term and healthy pregnancy on 16th May last year, weighing 6lb 2oz, and was a 'bundle of perfection'.
It took just 72 hours for everything to change and three days later, Teddy deteriorated and sadly passed away.
So when, during a discussion on a popular parenting site about social media mums that users found annoying, an anonymous 'keyboard warrior' implied that she wasn't a 'real' parent, Elle hit back.
In response to the comment, which read: 'I am not sure she could even be considered an Insta-Mum' Elle penned a guest blog for Rock My Family (opens in new tab), admitting: 'This comment took the breath from my very lungs. It cut deep. All I read was that she didn't recognise that Teddy made me a mother.'
In her open letter to the woman who'd posted the cruel jibe, Elle explained that just because Teddy was gone, it didn't make her less of a mum.
'[It was] like I had been unceremoniously pushed out of the Mummy Club once more,' she said. '"Your child died, so you can't sit with us". I gave birth to Teddy. I felt it, I saw it, I held my son.'
And while he only lived for three days, Elle and her husband were his 'devoted parents' to the end, and still are.
Talking about her son's last moments, Elle continued: '... I didn't want him to know that I was scared; I wanted him to feel safe and know that his Mummy loved him. That's what a Mother does isn't it?'
She added that she writes about Teddy to 'keep his memory alive' but also so that other mums, mums like her, will feel less alone.
Elle ended the letter by saying: 'Any mother who gives birth to a child - I don't care how that child comes into the world - is a mother. She is that child's mother; not just until that child takes their last breath, but until she takes hers.'
'I will not be made to feel like less of a mum because Teddy isn't here with me.'
'We are all mums, and I could not be prouder of who I have become thanks to Teddy's existence. Please just think about that the next time you consider who makes it into the club or not.'
Many followers couldn't hide their shock at the comment Elle received, with one commenting: 'OMG I can't believe anybody would say that! So sorry to hear that. Big hugs xxx'
A second agreed: 'We are all 'proper mums'. Sending love xx' while another wrote: 'I just can't believe how cruel some people can be.'
'Perfect response to someone who I hope never has to know the pain of losing a child. As it's something you wouldn't wish on your worst enemy... lots of love and high fives. One day at a time xxx,' posted another follower.
'Er, first rule of Mum Club is "be a nice human",' one pointed out.
How would you have reacted to a comment like this? Let us know your thoughts in the comment box below.
Trusted, informative, and empathetic – GoodTo is the ultimate online destination for mums. Established in 2007, our 15-year-strong archive of content includes more than 18,000 articles, 1,500 how-to videos, and 7,000 recipes.