Mother-of-two claims she 'ate nothing' for nine months during 'breatharian' pregnancy
'I knew my son would be nourished enough by my love'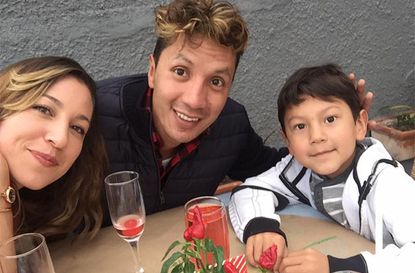 A mother-of-two has spoken out about her breatharian pregnancy, claiming that she only ate solid food five times throughout the nine months and now her and her husband live a 'food free' lifestyle.
Camila Castello and her husband Akahi Ricardo believe in breatharianism, a practise that sees humans live off 'energy that exists in the universe and in themselves'.
Speaking to the Daily Mail, the 34-year-old mother explains that she believes energy can sustain her better than food: 'Humans can easily be without food, as long as they are the connected to the energy that exists in all things and through breathing.'
'For three years, Akahi and I didn't eat anything at all and now we only eat occasionally like if we're in a social situation or if I simply want to taste a fruit.'
https://www.facebook.com/photo.php?fbid=1448799485143571&set=t.100000405993226&type=3&theater
What's more, Camila managed to upkeep this practise whilst pregnant, claiming that she 'ate nothing' whilst her babies grew inside her.
'With my first child, I practiced a Breatharian pregnancy. Hunger was a foreign sensation to me so I fully lived on light and ate nothing.'
'My blood tests during all three trimesters were impeccable and I gave birth to a healthy, baby boy.'
https://www.facebook.com/photo.php?fbid=441553395868190&set=t.100000405993226&type=3&theater
The mum added that the only times she did eat were in 'social situations', and that her baby was nourished entirely by her 'love': 'I didn't feel the need or desire to eat solid food during the entire nine months and so I only ate five times, all of which were in social situations'.
'And I knew my son would be nourished enough by my love and this would allowed him to grow healthily in my womb.'
'I went for regular pregnancy check-ups and my doctor confirmed the above average growth of a very healthy baby boy.'
Amongst other benefits of their breatharian lifestyle, the couple say that their health has improved and their financial outgoings have reduced.
The father-of-two elaborates: 'Obviously, our living costs are a lot less than most families and that has allowed us to spend our money on things that really matter like travelling and exploring together.'
'It's given us a clear sense of what we want in life. Anyone can live a breatharian lifestyle and feel the benefits. It's not about never eating food again, it's about understanding cosmic nourishment, not just physical nourishment, and living without limits.'
https://www.facebook.com/photo.php?fbid=1237296726293849&set=t.100000405993226&type=3&theater
Despite having such strict eating habits themselves, the couple do not force these upon their children.
Akahi says: 'We would never try to change them and we let them eat whatever they want whether that be juices, vegetables, pizza or ice-cream.'
'We want them to explore the different tastes and have a healthy relationship with food as they grow.'
Camila and Akahi met whilst travelling South America in 2008 and were married three years later. The couple were already vegetarian before switching to a raw, vegan diet before eventually becoming breatharians.
Parenting advice, hot topics, best buys and family finance tips delivered straight to your inbox.
Trusted, informative, and empathetic – GoodTo is the ultimate online destination for mums. Established in 2007, our 15-year-strong archive of content includes more than 18,000 articles, 1,500 how-to videos, and 7,000 recipes.