Mum opens up about the moment she saved her toddler as he choked on a grape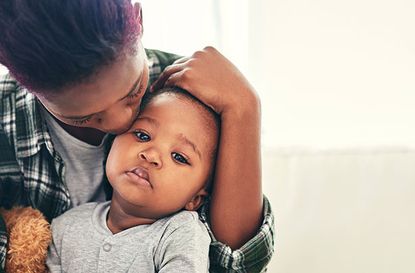 GoodTo newsletter
Sign up to the GoodTo Newsletter. You can unsubscribe at any time. For more information about how to do this, and how we hold your data, please see our privacy policy
Thank you for signing up to . You will receive a verification email shortly.
There was a problem. Please refresh the page and try again.
A mother has issued a warning to parents regarding fruit snacks after she saved her son's life whilst he was choking on a grape.
James Ereira stopped breathing shortly after he'd eaten his lunch, and was 'silent and limp' when his mother Gemma found him.
'His lifeless and quiet body slumping onto my shoulder will haunt me forever,' she recalled. 'He looked like he'd dozed off, but his eyes were open.'
Luckily Gemma had been to a two-hour first aid class recently, so she knew exactly what to do when a child is choking (opens in new tab).
'I turned him round, head down over my knee. (I was kneeling on the floor next to his chair still). I gave him three back blows. He suddenly cried really loudly and I saw half a grape on the floor,' she explained to the Eastern Daily Press.
'I was calm at the time purely because it was like instinct to give back blows, and I stayed calm because I knew that if that hadn't worked I could have turned him over and given chest thrusts,' she continued. 'But these were things I didn't know before Joe's class.'
Gemma is now urging other mums to have first aid training, and to also be aware that cutting grapes lengthways, as she did and as recommended for one-year-olds, can still prove to be fatal.
Parents can learn what to do if a child is choking in first aid classes by practising with child manikins
Joe Ellis-Gage, who is a paediatric A&E nurse, ran the two-hour class attended by Gemma and her husband.
Commenting on Gemma's terrifying ordeal, he said: 'Gemma just remembered everything I told her. She saw the problem, stepped in and fixed it and it was fine. But he was completely blocked and not breathing, so she saved his life.'
Gemma added that is it hadn't been for Joe's class, she probably would have called an ambulance and ran out of time to save her little boy.
'The thing that scares me the most is how quickly and quietly it all happened. I always thought if I needed to help with choking it would be after 10 minutes of coughing first. I'm just so thankful I did Joe's course so my instinct was to give back blows and my baby boy could breathe again.'
Joe launched Mini First Aid Norfolk last year and has since taught first aid skills to more than 1,000 parents, expectant parents, grandchildren, childcare workers and children.
'The most important thing to do if a child chokes is stay calm, reassure the child and encourage them to cough,' he stated.
'If they are unable to cough or their colour changes then you step in quickly with back blows and then abdominal thrusts or chest thrusts for under-ones. These skills can be learnt by attending a class where you get hands on practise with baby and child manikins.'
Words by Kirsty McCormack