Mum shares shocking difference between single and twin baby bumps with incredible video
A side-by-side comparison of her two pregnancies is pretty extreme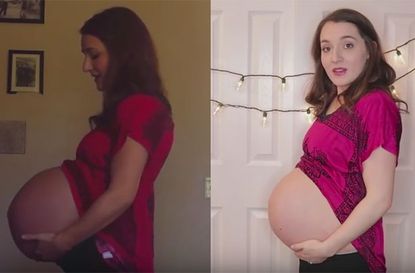 GoodTo newsletter
Sign up to the GoodTo Newsletter. You can unsubscribe at any time. For more information about how to do this, and how we hold your data, please see our privacy policy
Thank you for signing up to . You will receive a verification email shortly.
There was a problem. Please refresh the page and try again.
Mummy vlogger Natalie Bennett, who is 36 weeks pregnant (opens in new tab), has shocked her 40,000 YouTube followers with a side by side clip of her bump compared to 36 weeks along in her last pregnancy.
In the honest 16-minute video, the 24-year-old mum admitted that being pregnant with twin boys had been extremely difficult, and listed all the ways in which she had suffered physically during her first pregnancy.
'The pregnancy itself was so much less comfortable than what it is now,' she tells her followers. 'I had twice as many doctors appointments, so there's that. If you're pregnant with twins you're technically high risk, I had to travel a long way to the hospital that I was being seen at by the specialist.
'Being pregnant with one baby is just so much more convenient than being pregnant with two.'
But the most extreme comparison she makes was the changes her body had been through in each pregnancy.
Natalie Bennet/YouTube (opens in new tab)
At 36 weeks this time round, her unborn daughter weighs a 'healthy' five to six lbs. At 36 weeks with her boys, she was carrying 10lbs and described her bump as a 'torpedo belly'.
'I was a first-time mum, and so my body had not stretched that much yet. In my last pregnancy I had what is called PUPPS rash, and it was the most miserable experience.' PUPPS, also known as Polymorphic Eruption of Pregnancy, is a fairly common skin condition during pregnancy, which causes severe itching. (opens in new tab) The side on comparison of her bump during both pregnancies drew some strong reactions from commenters, with one typing 'You look like a swollen watermelon'!
Natalie Bennet/YouTube (opens in new tab)
Natalie seems to be a little self conscious of her size during her first pregnancy, admitting that her 'belly was so ridiculously large, it looks inhuman. People look it and they go "oh my god, what am I even looking at?" It was so heavy, my skin was so stretched, and I would scratch in the middle of the night and I would bleed in my sleep, and it didn't go away for a couple of weeks after I gave birth.'
http://www.youtube.com/watch?v=2oHG3dwmYiA
Happily for Natalie, she's enjoying pregnancy a lot more this time round, and although she admits that life is crazy looking after twin toddler boys while pregnant, loyal commenters all agree she looks 'glowing' and is an 'inspiration' for mums to be.