Mum praises Boots £3.99 'miracle cream' for curing daughter's eczema
'She was constantly scratching and bleeding.'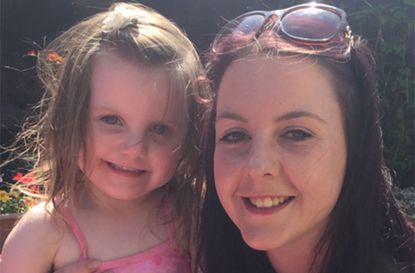 A mum-of-one has claimed that a Boots 'miracle cream' cured her three-year-old daughter's painful eczema that left her unable to sleep and scratching to the point of bleeding.
Paige Sweeney, a mum from Nottingham, was in despair at how to help her young daughter Evie-Rae, whose eczema (opens in new tab) had got out of control and spread all over her hands and legs.
At times the toddler's skin condition became so irritating, she was waking up in the night and itching her dry skin until she bled.
For two years the 23-year-old mum spoke to doctors and dermatologists to find something to ease Evie-Rae's eczema symptoms, but despite being prescribed steroid cream and a range of antibiotics nothing worked.
The mum explained, 'I've tried everything in an attempt to help Evie-Rae. She has had eczema since she was born, then when she was five weeks old she was diagnosed with a milk allergy.
'We saw a dermatologist every eight weeks for two-and-a-half years but nothing we tried seemed to work. It was awful to see her in so much pain.'
Evie-Rae's hands before and after using the cream
The little girl continued to suffer with painful rashes around her mouth, hands and at the back of her knees up until Paige discovered a product she had not seen previously.
She said, 'Her eczema was so painful that she didn't sleep through the night until she was two. She was constantly scratching and bleeding.
'I saw the moisturising cream on the shelf in Boots and decided to give it a go.'
Paige picked up Childs Farm baby moisturiser for £3.99 from Boots and started using it on her daughter, who began to see a positive difference quickly.
Childs Farm baby moisturiser is available for £3.99 from Boots (opens in new tab)
The mum continues to explain how Evie-Rae's sensitive skin means there are a lot of products she can't use, 'Evie-Rae also has a nut, soya and egg allergy, so we have to be careful with what we give her, but I could see the ingredients were all natural.
'Within a matter of days I could see her skin starting to clear up. I couldn't believe it. The NHS could save a fortune if they put it on prescription.'
The cream is created by a family run business, founded by Joanna Jensen originally to aid her own children with their dry skin conditions.
Trusted, informative, and empathetic – GoodTo is the ultimate online destination for mums. Established in 2007, our 15-year-strong archive of content includes more than 18,000 articles, 1,500 how-to videos, and 7,000 recipes.