Mum raises awareness of bullying after seven-year-old son is hospitalised with head wounds
Jak, 7, was pushed into a metal pole whilst at school by bullies.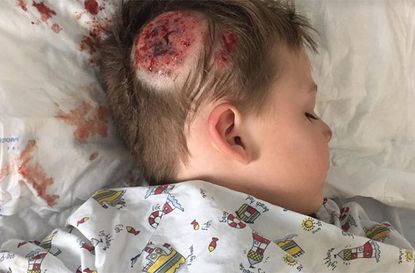 GoodTo newsletter
Sign up to the GoodTo Newsletter. You can unsubscribe at any time. For more information about how to do this, and how we hold your data, please see our privacy policy
Thank you for signing up to . You will receive a verification email shortly.
There was a problem. Please refresh the page and try again.
The mum of a seven-year-old boy who was continuously bullied at school has taken to Facebook to raise awareness after he was hospitalised with head wounds.
Seven-year-old Jak had complained of bullies at his school in Telford to his mum, but despite talking to the school she had been unable to stop the latest attack happening.
On a Facebook page called 'Justice for Jak', his mum has posted an upsetting account of what she has already been through to get help for her son, who was left with a serious head injury after 'the bully was hitting my son in school and pushed him so hard he hit his head on a metal pole'.
Jak's mum reports that he had already been 'whipped with skipping ropes, punched, called names and hit around the face with a tennis racket' by fellow pupils.
But the latest incident has prompted Jak's mum to launch a campaign to raise awareness of bullying and put a stop to his torment.
https://www.facebook.com/JusticeforJak/posts/1310747295676779
Jak was taken to the doctors and A&E a total of five times and was consistently misdiagnosed with concussion, whilst still suffering with bad head pains.
'Jak was screaming in pain again so I took him straight back to a&e. AGAIN I were told concussion, AGAIN I complained! Jak was later admitted into a pre assessment unit and then admitted onto the children's ward.'
https://www.facebook.com/JusticeforJak/photos/pcb.1310747295676779/1310747252343450/?type=3&theater
After being admitted to hospital it was revealed that Jak had a blood clot on his head that needed to be drained.
'Jak is on a drip having antibiotics, painkillers and even morphine. His vein had collapsed in his hands from his cannula so is like a human pin cushion. Having cannulas fitted, bloods take and swabs.'
'He's had a electric vacuum drain inserted into his head... meaning two tubes put in his head to drain the infection and the blood from his head.'
Now, Jak's family are looking for stronger measures to be taken by schools and even the police for bullying at a young age as they feel Jak's school have not taken his situation seriously.
'My son has been in a hospital bed for 6 days, not once has the bully missed a break time or received any punishment.'
'Today whilst I'm waiting for 7year old to come out of theatre from having a head operation for the second time I recieve a email from the school. It was a letter sent to all parents saying that it was a MINOR INJURY that has got infected!'
'I'm appalled at the school that i send my children to for 6 hours, 5days a week to be put in danger and then dismissed. But on top of that the police, people who are meant to protect the public can't/wont do anything!'
Jak's mum is encouraging others to teach their children not to bully, and to stick up to those who do.
https://www.facebook.com/JusticeforJak/photos/pcb.1311834385568070/1311834352234740/?type=3&theater
'We need to stand up to bullies, Pull together and make a change! Teach our children to be kind, teach our children to speak up.' The Facebook post has been shared nearly 500,000 times and attracted thousands of comments of support.
One Facebook user said, 'That really doesn't look like a "minor wound" to me! You ought to name and shame the school. Just because the bully is under ten years old shouldn't mean he's not accountable for his actions. I'd like to think at that age you'd know the difference between right and wrong!'
Whilst another commented, 'So hang on a minute, if a parent takes their child out of school for a few days for a family holiday then the school make a huge fuss. But if a child puts another child in HOSPITAL then it's completely ignored? What hope is there for our country's future when these are the messages our children are being taught in school!'