'Bye bye toe nails' Mum reveals the bizarre side effect she's experienced during her second pregnancy
Did you know about this?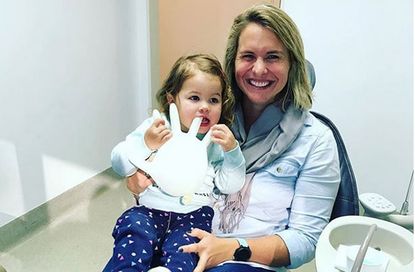 A mum has shared the unusual pregnancy side effect (opens in new tab) she's experienced during her second pregnancy (opens in new tab) at 27 weeks - brittle, damaged nails.
Pregnancy causes a lot of changes on a woman's body and leads to quite a few unexpected symptoms, but this is one we've never heard about before.
Taking to Instagram, retired Olympic swimmer Libby Trickett shared a picture of brittle and crumbling toenails, and revealed that she didn't know it was something that could happen during pregnancy.
'Well that's officially something I didn't know could happen during pregnancy.. 🤢😐😱#byebyebigtoenails #27weekspregnant #randompregnancyweirdness #whydonailsjustfalloffthough #likewtaf #notfungusiswear', the Australian gold medallist wrote in the caption.
Many women commented to say they too didn't know this could happen, while others said they had the same thing while pregnant.
One said: 'The littlest feet ever! Shame about the dodgy toenails 😳 I've never heard of that happening? Wonder if it's some kinda deficiency?? Stay healthy 💪🏼💪🏼'
A second commented: 'You poor thing! So fun being pregnant hey :( My nails were like that while pregnant then for the first 6 months of breastfeeding my nails grew beautifully and soooooo fast and as soon as I hit the 6 months mark of feeding, my nails are now breaking and splitting again 😭 I'm at 9 months now and they are still bad!'
Speaking to Daily Mail Australia, obstetrician and gynaecologist Gino Pecoraro said the condition is not uncommon in pregnant women.
'There are different conditions within pregnancy that sensitive or broken toenails can be a sign of - namely iron deficiency which is super common due to the demands on the iron reserves to make the baby and the placenta,' he explained.
'During the pregnancy women need more iron and if you are iron deficient before you even start this can leads to all kinds of issues including brittle nails and Koilonychia, a sign of iron-deficiency anemia, which leads to thin nails.'
Did you experience this or any other weird side effects while pregnant? Let us know in the comments!
Trusted, informative, and empathetic – GoodTo is the ultimate online destination for mums. Established in 2007, our 15-year-strong archive of content includes more than 18,000 articles, 1,500 how-to videos, and 7,000 recipes.