'You're an amazing bonus mom' Mum's emotional co-parenting thank you letter goes viral
The post has been shared 45,000 times on Facebook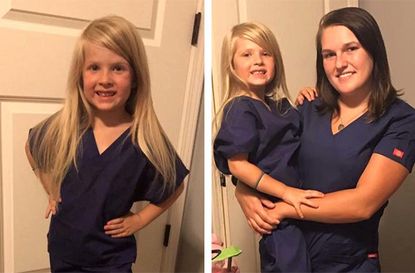 A mum's thank you letter to the partner of her daughter's father describing her as 'an amazing bonus mom' and showing how well co-parenting can work has been shared 45,000 times on Facebook.
In a heartfelt Facebook post, which has had more than 87,000 likes, mum Brittney Johnson wrote: 'To all of the mothers out there who throw a fit when another woman treats your child as her own: why isn't that exactly what you want? I prayed one night for the type of woman my daughter's father would be with, knowing that she would be raised in two homes.'
https://www.facebook.com/photo.php?fbid=10209984651315405&set=a.1867270884040.2094118.1309080162&type=3&theater
The picture shows Brittney's daughter Payton with her father's partner, Kayla Imhoff, dressed in matching scrubs after Kayla started nursing school - and Kayla wanted in on the action.
Brittney continued: 'Kayla has been a gift of so much more than I could have hoped for. She started nursing school and Payton has been infatuated ever since. So Kayla ordered a pair of mini scrubs for her to match.'
'Let me tell you, I'm raising a strong girl, a smart girl and a sweet girl. And I want nothing more than for her to be surrounded with role models who are exactly that. Thank you Kayla for showing Payton how to chase her dreams, how to work hard and stay up late to study for a test. Thank you for still making time to ride her bike with her and make her mac and cheese even in one of the stressful times of your life. You're a true role model and an amazing bonus mom and we are so proud of you!'
'If you're co-parenting, and seeing your child doing things like this doesn't bring a smile to your face, reconsider what's truly best for your child. Payton has more people to love her this way, and what more could a mother ever want for her child? Being best friends with me AND being best friends with Kayla, is exactly where P deserves to be.'
'It takes a village, and I happen to love mine.'
The post has been melting hearts on Facebook, with other mums tagging women they also want to thank.
One Facebook user commented: 'My kiddos are with their dad and his g.f. and I couldn't be happier. As I said the same thing about it taking a village to raise a child... So happy to see people with the same mentality.'
Another added: 'I believe more and more divorced parents are realizing this and that is wonderful. It is not a competition and if everyone is fair and honest, the children come out so much better, and know what? So do you.'