Mum's Facebook account disabled for sharing powerful tandem breastfeeding photo
'I did what I hope any person would do for my child in a time of despair. I fed a stranger's baby'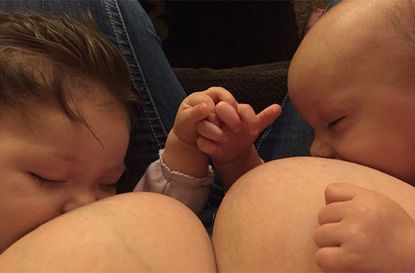 Breastfeeding is one of the most natural things a mother can do for her new baby.
But one mum of six had her Facebook account disabled when she posted a picture of her breastfeeding two babies at the same time.
Rebecca Wanosik, from Missouri in the US, was asked by one of her friends to feed a stranger's child while the baby's mum was in surgery.
In a Facebook post Rebecca said that when her friend asked if she would be happy to breastfeed another baby, she immediately agreed.
https://www.facebook.com/photo.php?fbid=1781701852114880&set=pcb.1781702782114787&type=3&theater
Rebecca said: 'Was there ever a question? The baby's mother was having surgery and the baby is exclusively breastfed and refused a bottle.
'When the baby arrived you could tell she has hungry and exhausted and just needed some milk.'
With the new baby's mother unable to feed her child, Rebecca added: 'I did what I hope any person would do for my child in a time of despair. I fed a stranger's baby.'
But what might seem to some an incredibly kind thing to do for another mum, Rebecca was shocked when people thought it was 'weird' or 'unnatural'.
'They are boobs, they are meant to feed babies. Also in case anyone forgot, they are mine, so I'm fairly certain I choose what happens with them.'
https://www.facebook.com/photo.php?fbid=1781702888781443&set=pcb.1781702782114787&type=3&theater
In the post, Rebecca shared a photo of her own child with the baby she was helping, holding hands while they fed together.
However, since posting the photo, Rebecca had her Facebook account disabled, causing her husband Anthon Wasonik to share the image and support his wife. He said: 'So my wife's account got disabled because of the unselfish act she did my posting about breastfeeding someone else's baby in need. Come on Facebook it was for a good cause.'
https://www.facebook.com/photo.php?fbid=1711800182438381&set=picfp.100008252468993.1680926072192459&type=3&theater
Rebecca's Facebook account has now been reinstated, and she has re-shared the photos to hit back at the criticism she faced for her generous decision.
In her latest Facebook post she said: '1. I did NOT just pick up a baby on the side of the road that looked hungry. 2. I had permission from the other child's mother to post the photos 3. The other mother and I have a mutual friend who knew enough about me to KNOW I could safely feed her baby. She wouldn't have consented otherwise. (Hence it being a "strangers baby") 4. I'm disease free. Unless being a badass is actually contagious? But after recent events I'd assume not. 5. I did what ANY compassionate woman should have done. Period.'
https://www.facebook.com/permalink.php?story_fbid=1783402278611504&id=100008252468993&pnref=story
Many others have been commenting on Rebecca's photos to share their support. One user wrote: 'Girl, you're what many women and young girls should aspire to be. Such a beautiful thing you did', while another said: 'I would have done the exact same thing!! Such a powerful image xx'.
Charlotte Whistlecroft is a former Family writer at GoodTo. She obtained a BA in Theology and Theological Studies at Durham University, going on to study a masters at City University London in 2016. Since leaving GoodTo she has worked as a Social Video Researcher at Mail Online and is now Assistant Producer at BBC Sport.