Mum's terrifying story of missing nephew's failed kidnapping goes viral
A mum has revealed how she lived through every parent's worst nightmare after losing her son – before thankfully finding him safe.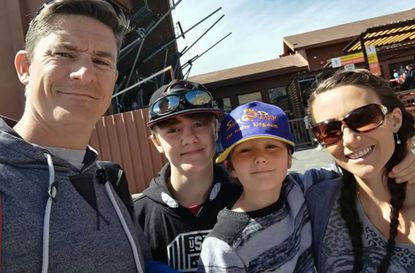 A mum has shared a vital tip with parents after her missing nephew was saved from being kidnapped thanks to the quick thinking of passers-by.
Vicky Hamilton-Ross revealed that if any parent should ever find themselves in the terrifying position of losing a child in public, they should immediately and repeatedly start calling out who they are looking for and a description of the child, as that is what saved her nephew.
Vicky recalled how her sister Lucinda lost her four-year-old son, Jake, during a family day out at a beach event in Bournemouth.
Recalling the chilling events in a blog post, that has since gone viral with over one million views, Vicky explained how quickly Jake disappeared after his mum let go of his hand for a split second to pick something up, and when she turned around, Jake was gone.
Vicky said: 'While trying to stay calm and telling herself he wouldn't go far she started to look around and call his name, still couldn't see him.
'Within a matter of minutes an army cadet who was stewarding the event spotted Lucinda and immediately asked what had happened and who she was looking for.
'He wasted no time and himself and the other guys stewarding started shouting "We are looking for a boy, he is 4yrs old, blonde and in a red T shirt. Have you seen him?" They repeated this loudly and constantly as they covered the areas nearby.'
Vicky then explained that thanks to the cadet's quick thinking, Jake was found 15 minutes later further down the beach, but the story he then told them would 'make any parents blood run cold'.
'Jake said: "There was a bald man in a white T shirt, he said he would take me to see a real rocket ship" He wasn't inclined to lie as a child and this seemed very genuine,' Vicky added.
She then warned fellow parents of the importance of repeatedly shouting out a child's description, as she believes this is what saved Jake from being taken off the beach.
'By very quickly shouting out the description of Jake and that he was lost, it meant the guy couldn't leave the beach without being spotted, so he just left Jake and walked away,' she said.
'I would urge every parent to do this immediately, even if you suspect they are just round the corner, what's the worst that could happen, you are slightly embarrassed because they hadn't gone anywhere? Well worth that risk.
'I truly hope none of you are ever in this situation but if you are then just shout, loud and clear, who you are looking for and what they look like. Don't be afraid to ask people to help you in other directions too.'
A Freelance Writer and Content Editor, Jenni has been working on the women's lifestyle team at TI-Media on and off for over three years. She writes about your favourite celebrities and TV shows so you never miss an update. Jenni also writes beauty news and features - so for all of your skincare and make-up needs, drop her a line.