Mum issues breastfeeding danger warning after her baby chokes on her breast milk
'One of the worst things a parent could ever witness'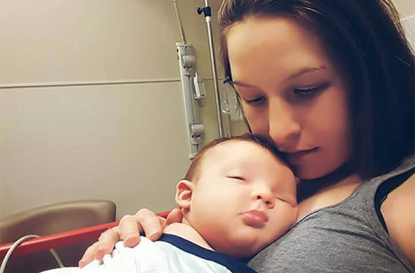 A new mum has issued a warning to other parents after her baby choked on her breast milk.
Recalling the experience in a post for the Facebook page Breastfeeding Mama Talk, the unnamed writer spoke of how the incident was the 'scariest day of [her] life.'
'Did you know that babies could choke on breastmilk? Like, seriously 'can't catch their breath, call an ambulance, trip to the emergency room' choke? Well, I definitely did not,' she asked.
'Watching my teeny-tiny new baby get hooked up to an oxygen mask with all sorts of tubes and codes being called out is one of the worst things a parent could ever witness. They're just so small and helpless, but most importantly, irreplaceable.'
https://www.facebook.com/bfmamatalk/photos/a.471668436214912.96317.411182815596808/1382407221807691/?type=3&theater
She continued: 'The point is, apparently this 'freak' accident can actually happen to babies, and it's more common than I thought – especially when you have an over-active let-down and produce too much milk. Sure wish I would have known that and been more prepared for something so insanely scary.'
The woman explained explained that she had been advised by midwives that she had a 'strong let-down' and and 'over-supply of milk', but admits that she didn't really understand what this meant at the time. It was vaguely suggested that she breastfeed lying down, she said, but she was unsure of the process and why this was important.
Women are more commonly concerned about not having enough breast milk to nourish their babies sufficiently, but over-production of milk can also cause problems when breastfeeding. A 'forceful let-down' is when milk it too forthcoming from the nipple and can cause babies to splutter or, in more extreme cases, choke.
If your child is spluttering or coughing during nursing; making a clicking sound; clamping down on your nipple to slow down flow of breast milk at let-down or refusing nursing or comfort nursing, it may because they are struggling with the amount of milk you're producing, and you should consider speaking to your doctor about alternative methods.
This mother's message, meanwhile, has received over 100 shares and visitors to the post have flooded the comments section with messages of support.
'Wow I'm so grateful for you and your baby that he is ok. Such a cutie btw. Praying that it doesn't happen again,' wrote one mother.
'I didn't know this was a thing! My baby coughs often when I feed him and sometimes appears to lose his breath for a moment,' said another grateful commenter. 'I will be watching for this.'
Trusted, informative, and empathetic – GoodTo is the ultimate online destination for mums. Established in 2007, our 15-year-strong archive of content includes more than 18,000 articles, 1,500 how-to videos, and 7,000 recipes.