Mum blogger's post about social housing goes viral for all the right reasons
What do you think?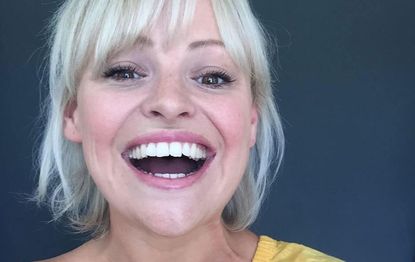 Family and lifestyle blogger Laura Rutherford has posted a passionate message on Instagram in an attempt to remove the stigma around social housing.
Laura Rutherford is mum to two boys and lives in London.
In one of her most recent posts she explained that the stigma surrounding social housing has always meant she keeps it quiet and rarely posts about it on her social media.
However, after a watching a film called Dispossession and thanks to posts from playwright and author Cash Carraway, Laura felt obliged to show that tenants in social housing come in all shapes and sizes and to open up the discussion.
With a following of over 14,000 people, Laura knew her message might help others speak out too.
Alongside a picture of the street she lives on in Notting Hill, London Laura wrote: '🙋🏼 ♀️I LIVE IN SOCIAL HOUSING🙋🏼 ♀️ Last night I watched a film called 'Dispossession' which is all about social housing and social cleansing. You'll never really hear me talk on here about us being housing association tenants. There's always been such a stigma attached to council houses and the 'type' of people that live in them.
'Thanks to the Media over the years, people are quick to judge and assume that everyone that lives in social housing is either poor, a scrounger off the state, uneducated and lacking in aspirations. This couldn't be further from the truth. My family home was a council house, where my siblings and I all grew up- a HAPPY HOME. It was a 3 bedroom maisonette, which my dad made into a 4 bed to accommodate us all in!'
When Laura turned 18 she was able to be re-housed and got a studio apartment on Portobello Road, Notting Hill. When her sister turned 18 she was given the same opportunity but Laura explains that her youngest sister was not as fortunate.
She explained: 'Trust me, if anyone 'deserved' their own flat, it was my younger sister @ac.christoforou . She became a parent at 18, then welcomed her second child into the world when she was 20, only to find herself as a single parent by the time she was 21. There were no longer any more re-housing options for our family. Lulu and I had the only opportunities. Abby went through what no young woman would ever want to face, and she found herself back in the home we all grew up in, with two babies.'
Detailing her decision to post this message Laura wrote: 'It's thanks to @cashcarraway who talks so openly about politics and social housing (she has a great story) that I've felt more comfortable owning up to how I got to live where I live. When I tell people we live in Notting Hill, the assumption is we're rich! Yes we're rich in LOVE but not in money. We now have a beautiful 2 bedroom flat which is home.
https://www.facebook.com/thatmummysmile/photos/a.1004648612966091.1073741825.1004630862967866/1367290416701907/?type=3&theater
'In the past I've had to bite my tongue when people I've met have made comments like 'it's a lovely area you live in, but do you get trouble from the people in council blocks?'...I was embarrassed to say WE are council tenants! We may live in a converted house and not on an high rise estate, but we are no different. SOCIAL HOUSING IS A RIGHT, NOT A PRIVILEGE. Don't get me wrong, we feel extremely privileged to live where we do, especially with millions of people these days on waiting lists or homeless.'
Although Laura is thankful to be housed in affordable accommodation she says she never takes it for granted. Now married she explains that despite earning a decent income her family are in no position to buy a home in the area they live and yet this is her home. It's where her community is and where her childhood memories were made. Why should she be forced to relocate?
Finishing her post Laura wrote: 'There was once a time when I didn't feel comfortable owning up to living on social housing, because I've always felt it's a topic that's been utterly stigmatised. But thanks to @cashcarraway (who you should follow by the way) I feel like I have more of a voice. If you get a chance to watch that film on Amazon (only 99p to rent) then please do. It's enlightening. Put your hands up if you live in SOCIAL HOUSING?🙋🏼 ♀️🙋🏻 ♀️🙋🏽 ♀️🙋🏾 ♀️🙋🏿 ♀️'.
Laura's post has already quickly amassed nearly 1,000 likes and hundreds of comments.
One person wrote: 'Thanks for posting this, I grew up in a housing association house and I'll never forget that. I hate the stigma that surrounds it, I've had so many conversations with people uneducated in the matter. Xx'.
Another added: 'Great post/comments and a good lesson in not making assumptions. 👏🏼'.
TV presenter Cherry Healey commented: 'Love this post and the reminder never to assume anything - just take people as they are and respect whatever their circumstances - mine have changed so dramatically over the last 15 years in so many ways but I'm the same person regardless - beautiful words xxxx'.
What are your opinions when it comes to social housing? Do you think it's important for there to be more bloggers from working class backgrounds who live in social housing to raise the profile? Head over to our Facebook page, we'd love to hear your thoughts!
Parenting advice, hot topics, best buys and family finance tips delivered straight to your inbox.
Trusted, informative, and empathetic – GoodTo is the ultimate online destination for mums. Established in 2007, our 15-year-strong archive of content includes more than 18,000 articles, 1,500 how-to videos, and 7,000 recipes.