Mum's warning for other parents after her child was seriously injured falling off a bed
A mum has issued a heartfelt plea to parents after her baby son nearly died from injuries he sustained falling off a queen-sized bed.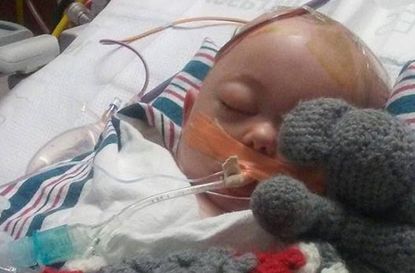 A mum has issued a heartfelt warning to parents after her baby son nearly died from injuries he sustained falling off a queen-sized bed.
Paige Ferguson recalled the horrifying moment she heard her six-month-old son Colton hit the floor after she and partner Blake Linton had laid him down in the middle of the bed, surrounding him with pillows.
'We heard him hit the floor, and immediately start to cry,' she said. 'Blake dropped everything and flew into the room to get him.'
But with just a small bump beginning to form on his head, Paige admitted she felt relieved that nothing serious had happened.
'He was crying, which meant that he was alert, and after we calmed him down and he smiled at us, I really felt relieved,' she added.
That was until she took little Colton to the hospital just to be on the safe side, and it was there that her world came crashing down.
'I vividly remember holding Colton up to vomit, while kneeling on the floor trying to calm him down, and the doctor walked in. He told us that Colton did have a fracture, and there was some blood on his brain. And it's crazy because even in that moment, I thought he would be okay. I thought "OK, they can fix this. It's going to be okay. He's tough. He's got this."'
https://www.facebook.com/photo.php?fbid=367041703812402&set=g.160833537966433&type=1&theater&ifg=1
But Colton's injuries were so severe that he was flown in a helicopter to Memphis where he was worked on by 20 doctors and nurses.
'I knew something was wrong when I kept asking if he was going to be OK and everyone kept replying with "We will do what we can,"' Paige recalled to Babble. 'No one would simply say yes.'
Paige and Blake still held out hope for Colton's speedy recovery, until a doctor told them, 'I need you to understand that your son will most likely die from this.'
The fall had caused such significant bleeding into his brain that Colton had gone into cardiac arrest, which starved his brain of oxygen. He spent the next month in the hospital undergoing surgery, tests, and an MRI that showed such significant damage to his brain that, as Paige and Blake were told, even if he survived, would leave him in a vegetative state.
It was then that Paige decided to set up a Facebook page, Colton Linton Updates, to try and make sure this type of accident didn't happen to anyone else's children and to also plead with them to think twice before leaving their child unattended, even if it seems safe.
https://www.facebook.com/photo.php?fbid=373226403193932&set=g.160833537966433&type=1&theater&ifg=1
She added: 'I am finally letting go of some of the guilt about the accident, and even though I know people will judge me, I'll take it all, if by sharing Colton's story, we can save even one life.
'Please do not leave your baby on a bed unattended, no matter how safe you feel they are; not even for a split second. And if your child sustains a bump to the head, be safe and get them evaluated. Demand a CT. Don't listen to old wives' tales that tell you if they will be fine or not; let the doctors do that. Colton cried, and even smiled, but he wasn't fine.'
In a miraculous turn of events, after a month in hospital Colton defied the odds and began to breathe on his own again. He is now at home with his family, still fighting but alive.
Parenting advice, hot topics, best buys and family finance tips delivered straight to your inbox.
A Freelance Writer and Content Editor, Jenni has been working on the women's lifestyle team at TI-Media on and off for over three years. She writes about your favourite celebrities and TV shows so you never miss an update. Jenni also writes beauty news and features - so for all of your skincare and make-up needs, drop her a line.