Myleene Klass reveals the powerful reason why she has banned weighing scales at home
Would ever consider doing the same?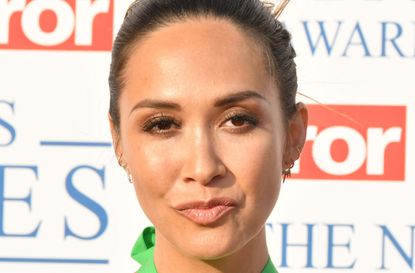 Myleene Klass has revealed that she does not allow weighing scales in her home for the sake of her children.
The mum-of-two admitted that she does not want her daughters, Ava and Hero, to link their worth to what numbers on a scale say.
'I'm very mindful of the language [I use] and I won't allow scales in my house. I don't want them to think their worth comes down to numbers. It's their brains, it's the words they speak and the thoughts they think,' she told Metro.
She added: 'They are a person, they are complete. The numbers on the scales are insignificant.'
Insisting that society puts too much pressure on women to be 'perfect', Myleene admitted that while she doesn't want her girls to grow up self-conscious, she does want them to pay attention to what they eat so they grow up to be fit and healthy.
'I do want them to be healthy and fit and jump around and not feel conscious in the clothes they choose to wear,' she said. 'I know how good I feel if I wear a dress I don't have to hold my breath in – that's a different set.
'There are so many crash diets out there but they don't last and they're not practical. Those people can't claim to be friends to women. You do have to put the work in.'
Myleene also admitted that she is thrilled her daughters are growing up in a feminist world.
She added: 'It's wonderful were in a position now we've never been in before. Our voices are being heard and we have a way to go but we can do it if we stick together.
'I'm not raising princesses, I'm raising lionesses. I want them to be strong, but have compassion and kindness.'
What do you think of Myleene's ban? Have you done the same or would you consider doing it? Head over to our Facebook page and let us know your thoughts!
A Freelance Writer and Content Editor, Jenni has been working on the women's lifestyle team at TI-Media on and off for over three years. She writes about your favourite celebrities and TV shows so you never miss an update. Jenni also writes beauty news and features - so for all of your skincare and make-up needs, drop her a line.