'I'm ashamed' Nadia Sawalha admits regret over drinking during pregnancy
Even though guidelines were different when she was pregnant, she regrets 'getting in the loophole'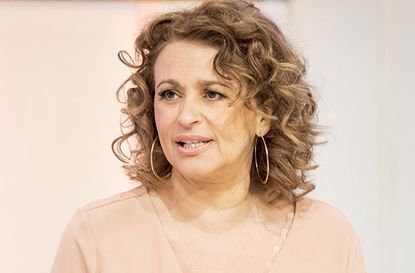 Loose Women regular Nadia Sawalha has admitted on air that she drank alcohol during her pregnancy, but that she feels 'ashamed' of it now.
The star explained: 'If I'd known what I know now, and that was me being ill-informed as a mother, was that Maddie's liver was the last thing that was going to develop and that the alcohol that I was pouring down my throat was going directly into her, into the placenta.
'If I was pouring alcohol into my child's mouth, you'd wrestle me to the ground.'
She explains that her lax attitude to drinking during pregnancy stemmed from growing up around the idea that it wasn't a big deal.
Her mum drank throughout her pregnancy, with Nadia admitting: 'I always remember growing up my mum regaling this story of when she was pregnant with me and she went to the doctors and asked if she could drink and he said, "Well as long as you're not drinking more than you've ever drank before then you can carry on drinking the same amount."
'"So I carried on drinking three quarters of a bottle of beaujolais every night" - I grew up with that in my head, that it's alright to.'
Advice around drinking during pregnancy can be conflicting, but according to the NHS it's best to abstain from alcohol completely to keep risks to your baby to a minimum.
Drinking in pregnancy can lead to long-term harm to the baby, and the more you drink, the greater the risk.
Official information from the NHS website says: 'When you drink, alcohol passes from your blood through the placenta and to your baby. A baby's liver is one of the last organs to develop and doesn't mature until the later stages of pregnancy.
'Your baby cannot process alcohol as well as you can, and too much exposure to alcohol can seriously affect their development.'
'When I was pregnant, the recommended allowance was one to two units, but I do think if someone introduces a loophole, it will be used,' the mum added.
'So I would be like, "Oh, I've had a steak and chips, maybe I'll just have a glass and a half".'
Nadia admitted that the 'one to two units' often turned into more, because she made excuses for herself and started to 'play about with [the numbers].'
Trusted, informative, and empathetic – GoodTo is the ultimate online destination for mums. Established in 2007, our 15-year-strong archive of content includes more than 18,000 articles, 1,500 how-to videos, and 7,000 recipes.