Mum hits back after being criticised for breastfeeding her nearly three-year-old son
'It is one hundred percent natural to still nurse your child -your body was made for it'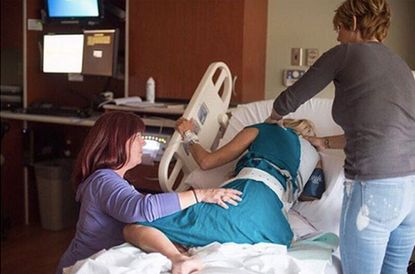 Nicole Curtis has taken to social media to hit back at critics who've condemned her for still breastfeeding her nearly three-year-old son.
Nicole, who's know in the US for hosting home renovation show Rehab Addict, decided to continue to breastfeed her son and practice baby-led weaning - when babies who are still breastfeeding are encouraged to self-feed appropriate finger foods, instead of being slowly introduced to purées with a spoon.
However, the mum is often criticised for still breastfeeding her son, and has been accused of alienating the father of her child because of it.
Alongside a picture of herself during labour, the mum wrote: 'I'm getting bashed on people.com for extended breastfeeding and accused of alienating a father....again. I'm posting this and I'm saying -mamas out there in similar situations DON'T HIDE.'
She also explained that while she was in labour for more than 13 hours, the father of her baby and ex Shane Maguire, was not there to support her.
'It is one hundred percent natural to still nurse your child -your body was made for it. And if you are going thru a pregnancy or motherhood alone-LOAD UP on good people to support you. I labored for 13+ hours and my best friend is pictured on the right rubbing my shoulders and my doula on the left. Note, no supportive, excited father and that's okay, but any woman who goes through this moment alone and then gets accused of "alienating" -May the Dear Lord grant you grace and patience.
'And people actually state -pump your milk and put it in a sippy cup ! What ? What ? What ?????? Yeah, hey it's a natural body function -would you tell someone to wear a catheter ? So whacked out. #normalizebreastfeeding #babyledweaning'.
Fans of the US TV star were quick to support the mum on her stance against critics, with one commenting: 'So dumb. You do what's best for you and your baby, you know what's best for both of you. Other people try to pervert what our bodies are meant to do. Also just wanna cheer you on! Go mama, go! I wasn't able to breastfeed due to my own complications from birth and was so sad I didn't get that experience with my baby. I envy mama's like you who've been so successful at it.'
Another wrote: 'It's your right to breastfeed your child as long as you feel the need to do so. It is all natural and better nutrients for the child in the long run. My daughter was breastfeed for just a little over 3 years she turned out to be a fine outstanding person. It's those shallow minded people that think it is discussing. You do what you feel is right for your child and yourself.'
Mariana is a lifestyle writer who has written for Goodto.com and My Imperfect Life. She joined the Goodto.com team as an intern after completing her journalism MA at City University. After six months spent writing about food, celebrity news, and family trends, Mariana left to write for Healthy Food magazine - but returned in 2017, to join the Future team once again. In her spare time, you'll find Mariana in the kitchen cooking for her friends.