Woman who was helped by homeless man raises more than £10,000 to thank him
Two amazing acts of kindness = faith in humanity restored.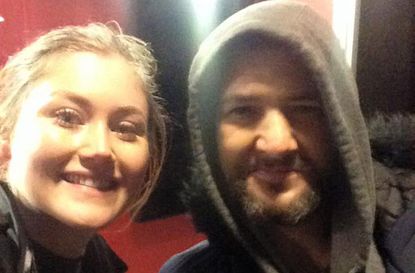 A 22-year-old woman who was helped by a homeless man when she was stranded in London at night has raised more than £10,000 to help him, as a way to say thank you.
This has to be one of the best stories about how good people can be to each other.
Nicole Sedgebeer, a 22 year old from Milton Keynes, was left stranded outside Euston train station, after missing her last train home after a night out in London.
With no battery on her phone and left to wait until the morning for a way to get home, Nicole said she met her 'homeless friend Mark' just as she was about to 'burst into drunken tears'.
Mark Collins then took her to a 24-hour cafe where she would be safe for the night, and promised to come back at 5am to escourt her back to the station.
After thinking he wouldn't show, she left the cafe early the next morning only to see her new friend running to meet her.
https://www.facebook.com/photo.php?fbid=10153302839126160&set=a.10150678637136160.388389.609156159&type=3&theater
'It got past 5 and he was a no show. As I got round the corner my homeless friend Mark was running down the street towards me. Not only did he turn up but he had to get a bus to come get me', Nicole wrote in a Facebook post where she shared the story that's moving thousands of people. The post has since been shared over 18,000 times.
Nicole marked their meeting with a selfie, which she said was Mark's first. She also said how Mark's actions have changed the way she looks at homeless people forever.
'This man who I probably would of avoided eye contact with if he asked for spare change, completely changed such a negative event into the most eye opening event in my life. Mark you are one special man', she wrote on Facebook.
Clearly touched by Mark's actions, Nicole decided to set up a fundraising page to help him. Her initial goal was £1,000, but the total of donations is nearly £11,000.
https://www.facebook.com/photo.php?fbid=10153320594911160&set=p.10153320594911160&type=3&theater
Nicole set up a Crowdfunding page for Mark to thank him for his help
Writing on the page, Nicole said: 'Mark embodies the best of humanity. He went out of his way to help me, a complete stranger, when the reality of his situation is that people walk past him every day without offering him help.'
In an interview on ITV news, where the two were reunited for the first time after meeting, Mark said it was a police man he knows very well in the area who told him the story was all over social media and that he was happy Nicole shared it.
'It's really nice that someone's done this because it brings a light to reality', he said, adding that he's been living on the streets for 12 years.
He also revealed he has three children and would hope someone did the same for them.
'I'd hope that someone would do this for my daughter. If they didn't I'd be disappointed in humanity. The fact that I live on the streets doesn't matter, doesn't make me any less of a person.'
Faith in humanity restored.
Trusted, informative, and empathetic – GoodTo is the ultimate online destination for mums. Established in 2007, our 15-year-strong archive of content includes more than 18,000 articles, 1,500 how-to videos, and 7,000 recipes.