This sun lounger for those of us with big boobs is PURE genius
The fuller busts gods have spoken...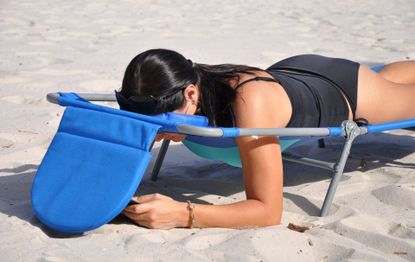 Sorry kids - this clever sun lounger, catered for those of us with big boobs, is just for us!
With the current UK heatwave situation giving the nation a chance to top up our tans without the airport queues and language barrier, all you need to do is order a garden lounger from Amazon and you're good to go.
But if you're one of the unlucky (or lucky) ones who has boobs higher than a C cup, you'll probably know the familiar ache across your chest when you've fallen asleep on a sun lounger. Or you're just strangled by your gals as soon as you lie face down so end up giving up and bathing with the sun in your eyes.
Well this might be the end to your summer woes.
Rather than developing the whole lounger out of the usual tough, breast-squishing polyester, beach chair brand Ostrich came up with their Ladies Comfort Lounger, which features a soft expandable area for the boobs that stretches to accommodate all breast sizes comfortably.
Designed exclusively for women to support the breasts, the lounger also has cut outs on its sides to fit your arms through and a cushioned face cavity so you can read or scroll through your phone without the usual neck strain that comes with it.
And you don't have to stick to the sea blue colour either - it also comes in a hot pink if you want to add a touch of glam to your summer pics.
Or if you want to take your sunbathing to the water, lingerie shop Bravissimo came out with a similar lilo earlier this year that's pretty impressive.
With its own 'Cup holders, Bravissimo style', the flamingo-esque lilo features a hollowed out section to support your chest when you're lying face down. Originally an April Fool's joke by the brand, they ended up developing the actual product after the positive response from the public.
The fuller busts gods have spoken, now get in that sun.
Aleesha Badkar is a lifestyle writer who specialises in health, beauty - and the royals. After completing her MA in Magazine Journalism at the City, the University of London in 2017, she interned at Women's Health, Stylist, and Harper's Bazaar, creating features and news pieces on health, beauty, and fitness, wellbeing, and food. She loves to practice what she preaches in her everyday life with copious amounts of herbal tea, Pilates, and hyaluronic acid.