Police issue warning for parents over fake celebrity social media accounts targeting children
The number of fake accounts grooming young people is 'steadily rising'.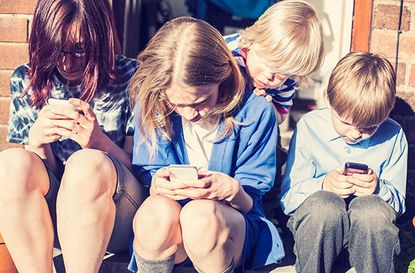 GoodTo newsletter
Sign up to the GoodTo Newsletter. You can unsubscribe at any time. For more information about how to do this, and how we hold your data, please see our privacy policy
Thank you for signing up to . You will receive a verification email shortly.
There was a problem. Please refresh the page and try again.
Police have issued a warning to BBC Trending radio about the growing number of social media accounts pretending to be celebrities to speak inappropriately to children and teenagers online.
Law enforcement in Australia have reported worrying activity from fake celebrity accounts, targeting young people and pressuring them to send explicit images.
Detective Inspector Jon Rouse, who runs task force Argos - a specialist branch responsible for tackling online child exploitation in Queensland, Australia - told the BBC, 'Identity assumption by child sex offenders is increasing quite steadily.'
DI Rouse recently lead an investigation about a fake Justin Bieber account, which turned out to be a 42-year-old man who had continuously used social media in order to groom children and attain sexual images from his victims.
The man in question used many different social media platforms and has been charged with over 900 child sex offences.
Detective Rouse commented on the worrying amount of trust that young people appear to be putting in strangers that they meet online.
'The fact that so many children across the world could believe that they were talking to Justin Bieber, and that Justin Bieber would make them do the things that they did, is really quite concerning.
'I think a re-evaluation of the way we educate children about safe online behaviour is really needed.'
After issuing the warning, BBC Trending spoke to the mother of an eight-year-old girl who had been targeted by a fake account.
The mother, who asked to remain anonymous, said that her daughter downloaded a popular social media app and was online for only two days before being approached by a fake account claiming to be a celebrity.
She said, 'The first message was inviting you to enter a competition and to win it you get a five minute chat (with the celebrity).
'And then the second message that came up was along the lines of "all you need to do is send me a photo of you naked or of your vagina." And then all these messages flew across the screen.
'Then the third message said "don't worry about it. All the girls are sending me these photos. Just do it. It'll be our secret". And then the last message was "do it now".'
The problem has been found across the internet, with the most well-known social media platforms such as Facebook and Twitter being affected as well as newer, more teenage-focused ones.
App Musical.ly (opens in new tab) recently made headlines after a mum issued a warning to other parents following 'modelling requests' being sent to her daughter.
Previously celebrities have even spoken out themselves against fake accounts, warning fans not to be taken in by them.
Harry Styles' sister Gemma tweeted back in February to warn One Direction fans of an account that was reaching out to young girls.
The account @PrvtHarryStyles claimed to be a private page belonging to the One Direction star in which he could give advice to girls with mental health issues and had over 10,000 followers.