These are the potential dangers of feeding a baby solids before six months
A new study from the US has highlighted the importance of waiting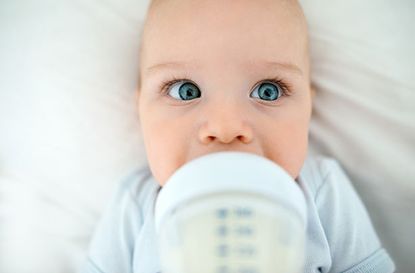 GoodTo newsletter
Sign up to the GoodTo Newsletter. You can unsubscribe at any time. For more information about how to do this, and how we hold your data, please see our privacy policy
Thank you for signing up to . You will receive a verification email shortly.
There was a problem. Please refresh the page and try again.
A new study has highlighted a surprising new health risk to babies.
According to research by US public institute CDC, giving tots food before they reach the age of six months can result in obesity.
The findings also revealed that a little one who is weaned on to solids too early is also more likely to develop diabetes.
'Introducing babies to complementary foods too early can cause them to miss out on important nutrients that come from breast milk and infant formula', said Dr Chloe Barrera, a nutritionist at the CDC.
To reach their conclusion, the CDC studied close to 1,500 babies and analysed six years of National Health And Nutrition Examination Survey data.
Having asked how old babies were when they first sampled things such as juice, baby food, water and cow's milk, the survey divulged that only 32.5 per cent of youngsters were given solids at the recommended time.
Dr Barrera added: 'Conversely, introducing them to complementary foods too late has been associated with micronutrient deficiencies, allergies and poorer diets later in life.'
Here in the UK, the NHS advises parents not to rush giving babies solid foods.
'Research shows babies can get all the nutrients they need from breast milk or infant formula until they are around six months old. Waiting till then gives their digestive system time to develop fully so it can cope with solid foods. This includes solid foods made into purées and cereals added to milk', their website states.
'If you are breastfeeding, having breast milk alone up to the age of six months will protect your baby against infections. Breast milk will carry on protecting them from infections for as long as you carry on feeding.'
The NHS continues: 'Whether your baby has breast milk or infant formula, waiting until they are ready for food will save a lot of time, too. They'll quickly be able to feed themselves and with less mess, as they will be able to swallow properly.'