Bridesmaid considers skipping hen do but worries her 'Bridezilla' mate will tell everyone she's pregnant
What advice would you give this pregnant bridesmaid-to-be?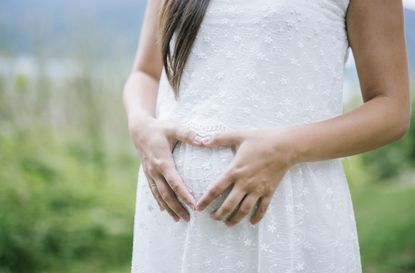 A pregnant bridesmaid has asked for advice on how to tell the difficult bride-to-be she can no longer go to the hen do.
Navigating the politics of a hen do can be tricky at the best of times. But, when you unexpectedly find out your pregnant and the bride-to-be has a tendency to be jealous and lash out, how do you break the news that you'll no longer be attending?
That's exactly what one Mumsnet user wanted help with. The user explained: 'I'm a bridesmaid in May for an old school friend. She's always been quite selfish but I've known her 20 plus years which counts for something. Recently she's morphed into bridezilla.'
The bridesmaid-to-be wants to be there for her friend but due to a complicated medical history she has to go to the hospital for several checkups during the pregnancy.
She explained: 'We were planning on TTC but delayed until March, even though we expected it to take a long time (6-12 months minimum) in our mid 30s trying for our first as I only have 1 tube (historical ruptured ectopic with ex-fiancée in 2013) ... and so here I am 5 weeks pregnant after month 1 TTC having ovulated from my tubeless side.'
At the time of posting the bridesmaid explained that the dress fitting was two days away and it was three weeks before a 'VERY boozy' four day hen do.
Understandably she was a little nervous about the prospect and had a lot going on in her own life at the moment. She explained: 'I can't do any of the activities e.g. clubbing, the spa etc.), exhausted, nauseous, selling 2 houses (completing on one in 8 days time) and buying another privately without an estate agent. I also work full time in a demanding career in financial services.
'Due to my history I'm at the hospital frequently being monitored - first scan today is our 5th visit to the hospitals early pregnancy unit in a week - and am on antibiotics for a UTI which I'm prone to with stress. Things look good so far and scan today should confirm bubs is in the right place.'
The bride's hen do is three weeks away but this pregnant bridesmaid doesn't know how to drop out
She continued: 'Clearly, something has to give and I need to pull out of the hen do, plus I'll need to say something to the seamstress as I'm already in maternity jeans because of bloating and a delightful maternity bra will give it away immediately.'
The bridesmaid explained that although she knows what she needs to do, she is worried about telling the bride the truth as she will probably react badly.
She said: 'In my heart I hope the bride would be pleased for us, but in my head I know she's probably going to be nasty about it, and most likely not to my face which is worse - I don't trust her to keep our secret and only parents/my best friend know at the moment.'
The bride had recently had a huge rant about people announcing their pregnancies on Facebook and the bridesmaid suggests that much of the anger comes from jealousy.
She wrote: 'Her reaction will stem from jealousy - considering my history I know the green eyed monster well - but I've never taken it out on other friends when they announce they're expecting.'
Several Mumsnet users suggested that this friend seems like more hassle than gain. Many said that the bridesmaid should put her own health first and if her friend doesn't understand she's not worth having in her life.
One said: 'I would pull out completely. It sounds like being her bridesmaid is going to be a source of constant stress.'
Another wrote: 'Sounds like a 'friend' you're better off without!'
What would you do in this situation? Do you think the pregnant bridesmaid should tell the bride the truth or make up a different excuse? Let us know your thoughts in the comments box below!
Jessica currently works as a Senior Food Writer at Future. She writes food and drink-related news stories and features, curates product pages, tests, and reviews equipment, and also develops recipes that she styles on food shoots. An enthusiastic, self-taught cook Jess adores eating out and sharing great food and drink with friends and family. She has completed the Level 1 Associate course at the Academy of Cheese and is continually building on her knowledge of beers, wines, and spirits.