'I don't want anyone there at the birth' Pregnant Eva Longoria reveals her strict hospital rules
Eva Longoria has admitted that she has banned friends and family from the hospital when she goes into labour.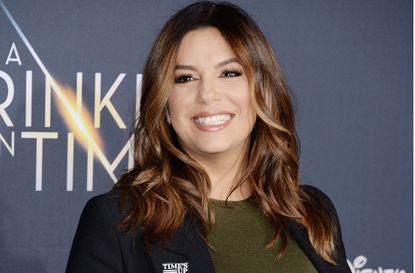 Pregnant Eva Longoria has apparently 'banned' friends and family from the hospital when she goes into labour.
The former Desperate Housewives star, who is expecting her first child in June, admitted that she doesn't want 'anybody' around when she goes into labour – even hinting that her husband, Jose Antonio Baston, will also be made to keep his distance.
'No one is gonna be there! I don't want anybody there,' she told Jimmy Kimmel when asked who will be at the birth.
Despite Eva's wishes, she revealed that she and Jose's families are still intent on making the trip to LA ahead of her due date – something she is not happy about.
She added: 'They're all excited. They are coming out – I don't want them to.'
'I need to absorb this moment by myself [but] I'll end up taking care of them, cooking for them, making sure they're okay… I don't have time.'
Eva also discussed how 'uncomfortable' she is finding being pregnant with her first child.
She said: 'It is uncomfortable, I mean everything's uncomfortable, it's like, everything gets – it's not just your belly – everything gets bigger, like my thighs, I've never seen my thighs so big, and my boobs, like, they're in the way of everything. It's hard.'
But despite being so far along in her pregnancy, Eva admitted that she is constantly forgetting that she's pregnant.
She recalled: 'I always forget. The other day I was asleep and the alarm went off and I was gonna jump out of bed and I was like, "what's happening, I can't get up".'
'My husband and I, like a month ago, were talking about going snow-skiing and I go, "Oh my God we should go next weekend we're free", and he goes, "No!" and I'm like, "Oh you've got that thing, right?" and he goes, "You're pregnant!" – I forgot.'
The Overboard actress also joked that she announced her pregnancy because she didn't like people thinking she had simply gained weight.
She said: 'My husband was like, "how are we going to keep this under wraps", and I was like, "they've been saying I'm pregnant every month for the last 20 years of my life".
'It'll be so easy, like I had a burger and they're like "Eva's pregnant" and then I had a pizza and they're like "baby bump".
'Finally the tabloids came out and they were like, "Eva's gained weight", and I was like, "I am pregnant!".'
A Freelance Writer and Content Editor, Jenni has been working on the women's lifestyle team at TI-Media on and off for over three years. She writes about your favourite celebrities and TV shows so you never miss an update. Jenni also writes beauty news and features - so for all of your skincare and make-up needs, drop her a line.