Reddit thread reveals the most ridiculous complaints teachers have EVER received from parents
Some of these are unbelievable!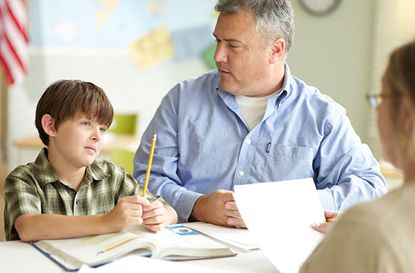 There's no denying it, teaching is a difficult job. We have huge respect for those in the classroom, teaching our little ones day in day out, and considering it's difficult getting our broods under control we can't even imagine how they do it with a class of 30!
But it seems that it's not always the children that cause the most problems for educators, after a new Reddit thread exposed the hilarious and somewhat unbelievable complaints that parents have made.
From blaming a teacher for the weather on a school trip, to unreasonable expectations, get stuck into this fascinating and hilarious list of ridiculous parent complaints - are you guilty of any?
The child had heard someone using swear words. Child is 16, thought it was odd, but still, if a student or worse teacher had sworn at him, it's not great. Teacher: 'Was it a teacher, or someone else at the school?' Parent: 'no' Teacher: 'ah it was a fellow student then?' Parent: 'no' Teacher: 'so it was someone else in school - did it happen in the school campus?' Parent: 'no' Teacher: 'During school hours?' Parent: 'no' Teacher: 'So you're saying your child heard someone swearing outside of school grounds and outside of school hours and that person had no connection to the school?' Parent: 'Yes, I want to know what you're going to do about it!'
Organising a grad dinner. Mother comes in and demands her daughter perform her music. I inform her the grad class has picked someone else other than her daughter.
She gets even madder, she corrects me that she is not talking about her daughter that is graduating. She is talking about her daughter that graduated years ago trying to launch her music career.
I laugh and professionally inform her it will never happen.
I had a parent come in and ask me where our cleaners were from to decide whether or not she trusted that her daughter wouldn't get her stuff robbed at school.
I explained that we didn't use an agency, all the cleaners were employed directly by the school.
'No', she clarified, 'where are they from?' She was quickly invited to leave my office.
Had a parent forgot to pack their kid a lunch. They called the school to tell me I needed to leave the class to go across the street and buy the kid subway.
I gave the kid a D on a homework. Parent contacted me to complain that I was picking on him. Even though the parent agreed that most of the answers that he gave were wrong but I should have 'cut him some slack'.
I had a parent complain because I played a CD of classical Persian flute music one day in class. The class was World Languages and Cultures and I played a different CD from around the world every day as they came into class. They thought I was sympathizing with terrorists and should 'only teach American stuff'.
A parent at my sister's school complained because it rained on the school trip to the zoo. 'I wouldn't have given permission for my child to go on the trip if I had been properly informed it might rain.'
'One mother threatened to yank her daughter out of the school if this student were not given the starring role in the Christmas concert to sing 'O Holy Night'.
The girl had made it perfectly clear to me, the faculty and classmates that she realised she wasn't musically qualified for the part, neither did she want to do it. It was entirely her Mom - determined that her daughter should be 'the star' of the school, no matter what.
I had a parent complain about unfairly sending her kid home after he was running a 101 fever and vomited right in the middle of the cafeteria.
She insisted that every witness (in the whole cafeteria) to the vomiting was lying and insisted that the 101 'fever' was caused by her child wearing a sweater. This mom was not called away from a job to pick up her sick child - she was a housewife. She was literally at home when the school nurse called her home phone number.
Trusted, informative, and empathetic – GoodTo is the ultimate online destination for mums. Established in 2007, our 15-year-strong archive of content includes more than 18,000 articles, 1,500 how-to videos, and 7,000 recipes.