'My nipple literally cracked in half' Mum shares her painful battle with mastitis
The 24-year-old developed the condition after being embarrassed to breastfeed in public.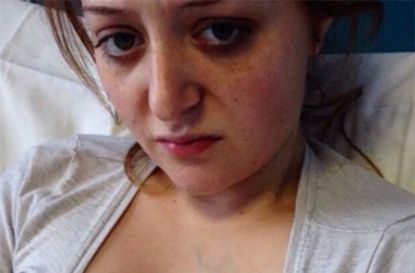 A mum has taken to social media to share the horrifying struggle she went through while breastfeeding her newborn, resulting in mastitis and eventually sepsis.
Mum-of-one Remi Peers, known on Instagram as MamaClog, has opened up about how her lack in education of how to breastfeed meant she eventually developed 'excruciating' mastitis and became hospitalised with sepsis.
The 24 year old posted a throwback image of herself a year ago, when she was at the height of her breastfeeding struggle, sitting in a hospital bed with clearly inflamed and red breasts.
Next to the powerful image she retold her story, explaining how a belief that 'breastfeeding would come naturally' lead her to experience blocked ducts and engorged mammary glands.
Remi began, 'After hitting the 1 year breastfeeding mark last Sunday I felt compelled to share my story.
'Breastfeeding did NOT come easy for me. My milk came in after 5 days. I wasn't aware that it could take that long, I didn't even necessarily know what 'milk coming in' meant.
'While the other babies slept with full bellies, my son screamed and cried attached to my breast through the night.'
The mum to one-year-old Rudi continued, 'When I got home, problems started to arise - my nipple literally cracked in half. I have never felt such pain, I dreaded every feed, but persisted with tears in my eyes until I was healed.'
Explaining how feeding in public used to make her feel embarrassed and led to mastitis, Remi said, 'When feeding my son out in public I would either go to the bathroom or pump at home and feed him with a bottle. Because I felt embarrassed and as though I would make others uncomfortable. This resulted in clogged ducts and engorgement.'
After already experiencing pain and confusion on her breastfeeding journey, the first time mother described her symptoms which, as they worsened, lead to sepsis.
'I remember waking up at 3am shivering, putting on my dressing gown and extra blankets and trying to feed my son. The pain. It was excruciating. I was shaking and sweating but freezing to my bones.
'7am comes, I've had no sleep, and now I'm vomiting.
'I had developed sepsis overnight. This was because I was not able to recognise the more subtle signs of mastitis (as I had seen no redness that day).'
Remi continued to document how she was rushed to hospital and spent two nights away from her baby recovering from her condition. Now, a year on, she is asking that new mums are better educated in the difficulties of breastfeeding.
'Breastfeeding is HARD, it needs to be taught and it needs to be learned. Just like walking, talking, reading and writing- it may be natural, but it does not always come naturally.'
Social media users have flooded Remi's post with messages of solidarity, with many agreeing with her concerns.
One follower wrote, 'I whole heartedly agree with this - breastfeeding is not easy at all! There should be more help and Information freely available for pregnant/new mums!'
Another added, 'It's a bad experience u had sweetie. But be glad u pulled through for a full year and u would be proud looking at your well nourished well breast fed baby.'
Trusted, informative, and empathetic – GoodTo is the ultimate online destination for mums. Established in 2007, our 15-year-strong archive of content includes more than 18,000 articles, 1,500 how-to videos, and 7,000 recipes.