Charity warns of worrying new reverse bullying trend all parents need to be aware of
Have you heard of it?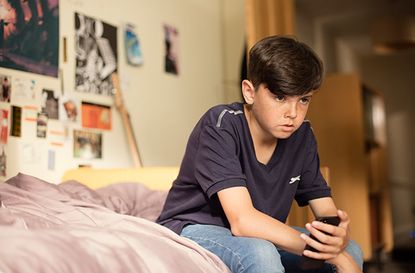 A charity is warning parents of a new worrying bullying (opens in new tab) trend called reverse bullying.
Bullying has become a big problem, with more than 16,000 children and young people having missed school because of it according to the NSPCC.
But now there's another concern when it comes to bullying - charity Kidscape is warning parents that children could also be affected by 'reverse bullying'.
The new term illustrates when a child is bullied as a result of bullying someone else. It's the result of children wanting to protect one of their peers, but the way they do it is by attacking another child.
Lauren Seager-Smith, CEO of anti-bullying charity Kidscape, told Netmums: 'Children have a strong sense of justice. This means if they see a child being bullied, they might decide to take matters into their own hands.
Parents are being warned of 'reverse bullying
'This can sometimes result in 'reverse bullying' which is when the child who was bullying others suddenly finds themselves on the receiving end of anger, disgust and retribution from their peer group.'
And while the fact that children are rejecting bullying and defending their peers from it is a positive sign, doing it by bullying someone else is also a problem.
'While it is good when children reject bullying behaviour, it is important that they do this in appropriate ways - always challenging the behaviour, rather than attacking the person', Lauren said.
To tackle reverse bullying, parents are being urged to teach their children how to deal with bullying behaviour without becoming the bullies themselves.
Some of the things Lauren suggests children can do to support another child being bullied include supporting them by speaking to them and telling them they're there to help, and not laugh along when they witness bullying behaviour.
Children should also be encouraged to speak to an adult - like a parent or their teacher - if they're worried about someone being bullied.
Trusted, informative, and empathetic – GoodTo is the ultimate online destination for mums. Established in 2007, our 15-year-strong archive of content includes more than 18,000 articles, 1,500 how-to videos, and 7,000 recipes.