Ronan Keating opens up about how co-parenting can leave him feeling 'angry and frustrated'
Father-of-four Ronan Keating has opened up about the difficulties of co-parenting with his ex-wife Yvonne.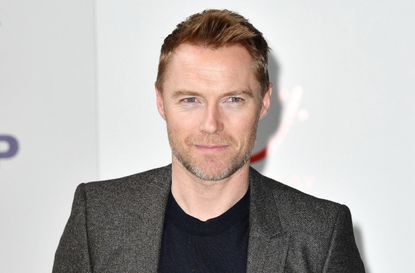 Ronan Keating has opened up about the difficulty of co-parenting his three children with his ex-wife Yvonne Connolly.
Father-of-four Ronan Keating married Yvonne in 1998 aged just 21 and the couple's divorce was finalised in 2015.
Ronan and Yvonne have three children together - 19-year-old Jack, 17-year-old Missy and 12-year-old Ali - and he's also dad to Cooper, who he shares with his wife Storm Uechtritz.
Like many parents who decide to split, Ronan has been co-parenting his three children with his ex-wife, but now he's confessed that it has left him feeling 'angry and frustrated' at times.
Speaking to The Sun, the singer said co-parenting was 'very, very, very, very tricky'. He added: 'It's a very difficult thing. We are lucky, I have three amazing children (with Yvonne) that blow my mind — the stuff that they deal with — and they are brilliant.'
Ronan also credited Storm for helping to make it all work and said she welcomed his three children without hesitation.
He said: 'Storm is incredible. She welcomed those kids with open arms, and those kids are hers as much as they are mine...She makes that work — that happens because Storm makes that happen. I would be useless without that. This wouldn't work like it works.'
Ronan added that regardless of his own emotions he has to keep it together for the sake of the children. He said: 'It wouldn't be easy all the time — but you try for the children always to just remain calm and get through it.
'You've got to always remain in an adult state of mind so that you can deal with it. There are times when I get very angry, very frustrated and you really have to bottle that, you've got to protect the children always.'
Raising a family is a challenge whether you decide to stay in the relationship or not but co-parenting can bring new challenges. Ronan said the most important thing is not to let the children be affected by your decision to split.
He said: 'Raising those children from separate places, two separate views... once that breaks down your opinions change and your version of events changes.'
The father-of-four added that no matter what, his children would always be his number one priority.
Jessica currently works as a Senior Food Writer at Future. She writes food and drink-related news stories and features, curates product pages, tests, and reviews equipment, and also develops recipes that she styles on food shoots. An enthusiastic, self-taught cook Jess adores eating out and sharing great food and drink with friends and family. She has completed the Level 1 Associate course at the Academy of Cheese and is continually building on her knowledge of beers, wines, and spirits.