'We could be dealing with something a lot more serious' Dad credits Owlet Smart Sock with saving his son's life
'His heart wouldn't have been able to handle it'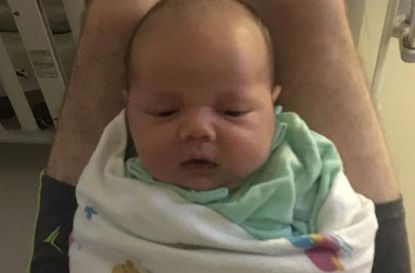 A dad has encouraged other new parents to consider buying a gadget that monitors babies whilst they sleep, after it alerted him to his son's irregular heartbeat.
Ryan Nicholas Golinski shared a picture of his son to Facebook to issue the message, detailing their scary experience with their baby and explaining how the Owlet Smart Sock had seemed like a big investment at the time of purchase, but that it now felt 'well worth the money.'
'Kate and I invested 300$ into something called the owlet smart sock, which monitors the babies oxygen levels and heart rate while he was sleeping. It helps prevent SIDS (opens in new tab),' Ryan wrote.
'So last night around 3a.m. The sock started alarming us something was wrong, which we thought was a false alarm because it said his heart rate was reading 286. But three resets later and it was still reading extremely high for an infant.
https://www.facebook.com/photo.php?fbid=10203636280625659&set=a.1299848154380.33162.1775702289&type=3&theater
'We have spent the last 24+ hours At the hospital for something called SVT, and we caught it before any side effects. So everything is going well now and his heart is still extremely healthy, if we didn't catch it as early as we did with that sock, his heart wouldn't have been able to handle it and we could be dealing with something a lot more serious.
'I highly recommend new parents invest into this sock, its well worth the money,' he concluded.
Ryan's post has since received almost 58k shares and received many comments thanking them for sharing their story and raising awareness of the device.
'Thank God you guys had that! I have no children yet, but thanks for the advice, I'll def remember this! So so scary! Praying for all of you and for a speedy and fast recovery,' one wrote, whilst another agreed: 'Glad he's okay! I actually just bought an owlet today for our 3rd little guy due at the end of next month and this makes me even happier I did'.
The Owlet Smart Sock retails for $299, but is currently out of stock on Amazon UK (opens in new tab)
On the Owlet Smart Sock website, the makers of the product, which is worn on a child's foot and tracks heart rate and oxygen levels so that it can make parents aware of anything unusual in real time, say that the sock cannot 'guarantee safety', but it does offer parents increased peace of mind.
'The Owlet Baby Monitor is only intended to assist you in tracking your baby's wellbeing and is not intended to replace you as a caregiver. You are ultimately responsible for your baby,' they note.
'This device is not intended to cure, treat, or prevent any disease or health condition, including, but not limited to, Sudden Infant Death Syndrome (SIDS).'