We earn a commission for products purchased through some links in this article.
Parents are being warned about car seat safety after a study highlighted the importance of a properly secured car seat.
Researchers from the University of Bristol found that sleep in particular proved to be potentially dangerous, as babies slump forward in their seats and block off their airways.
Using a laboratory, the scientists replicate the effects of sleeping in a car seat during a car journey at 30mph, and found that after half an hour in the car seat the amounts of oxygen in the blood of babies under two months old dropped 'significantly', and their heart rates increased.
Dr Peter Fleming, of Bristol University, said as a result of the research: 'There have been reports of deaths of infants who have been left in a sitting position, including in car seats – both on journeys, and when parents have used it as an alternative to a pushchair or cot for the infant to sleep in.'
'Our findings suggest this kind of thing [death] could happen, although it would be a very rare event.'
As a result, the team recommend that all children travel in a properly secured car seat, as required by law.
They add that all parents should know that car seats are still safer than babies being carried in an adult's arms. 'If you brake suddenly the baby could be killed,' Dr Fleming said. 'No human is strong enough to hold on to a baby in a crash. The law says they must be in a car seat, that's for a very good reason.'
In November 2015, a similar study showed that 31 babies had died after being suffocated or strangled by the seat straps.
The research, published in the Journal of Paediatrics, found that out of the 46 deaths of children under two from asphyxia associated with sitting and carrying devices, an astounding 31 involved car seats.
Fifteen of the deaths analysed in the study were due to suffocation, while the remaining 16 were strangled by the seat's straps.
Dr Erich K. Batra, who led the study at Penn State Medical Centre, Pennsylvania, highlighted the importance of supervising children when they're in a sitting device.
'Many parents use sitting or carrying devices, not realising that there are hazards when they do this,' the child specialist said. 'Infants and young children should not be left unsupervised when using a sitting or carrying device due to the risk of suffocation and death.'
In cases of suffocation, the danger again is that babies' airways can close as a result of the position they're sitting in.
If this were to happen to an older child or an adult, they would be able to change their position, but as young children don't have the muscle strength to move or lift their neck, there's a risk of suffocation.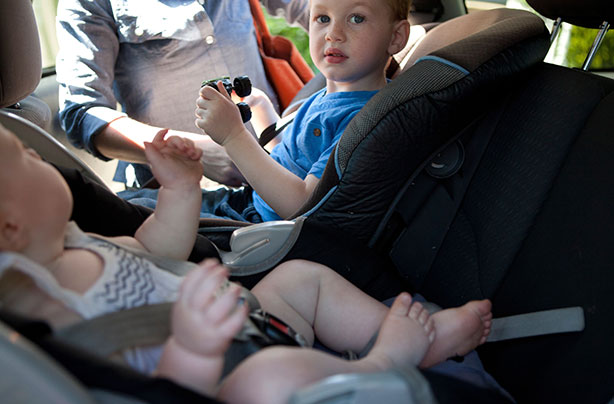 The shocking findings came after the death of 26-day-old Lochlan Richards in December 2014. Lochlan was travelling from his home to Southampton by car with his parents when they heard unusual noises and stopped to check on him.
It turned out that Lochlan was having trouble breathing and even though his parents took him to the nearest surgery, it was sadly too late to save their only child.
The child's grandfather, Steve Richards, now wants to raise awareness of the dangers car seats pose for young children and hopefully prevent more tragedies.
Mr Richards, who's a car seat safety consultant, said: 'In Lochlan's case it is undeniable that he was positioned in a conventional infant carrier and that if he was in a lie-flat car seat his death may have been prevented or his breathing difficulties may not have even occurred at all.'
Recommendations for parents after the study are that infants and young children should not be left unsupervised when using a sitting or carrying device.
Experts also recommend that car seats are not used as napping devices outside vehicles and that babies are put to sleep on their back in a Moses basket or cot until they are old enough to roll and can find their own sleeping position.