'ANY sun colour is a form of burning' Sam Faiers criticised by fans over baby Paul's sun protection
The ITV star's recent Instagram picture sparked debate between her fans.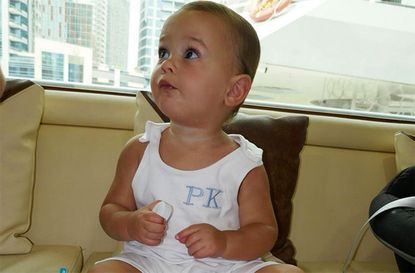 GoodTo newsletter
Sign up to the GoodTo Newsletter. You can unsubscribe at any time. For more information about how to do this, and how we hold your data, please see our privacy policy
Thank you for signing up to . You will receive a verification email shortly.
There was a problem. Please refresh the page and try again.
TV star Sam Faiers has been criticised by followers after posting a photo of her baby son Paul with a sun tan, after a holiday in Dubai.
The ITV favourite has been sharing images of her holiday with her 1.8 million followers on her Instagram account, including lots of adorable snaps of her little one.
However, one of her latest images has caused some concern amongst fans, who feel little Paul's golden colouring looked suspiciously like sun burn and have criticised the mum over her baby's sun protection (opens in new tab).
Sam captioned her picture, which shows Paul sat amongst his toys wearing an initialled romper, 'Out on the boat today'.
Although lots of fans commented on the picture with exclamations of how adorable Paul looks, some had to disagree.
One Instagram user wrote, 'Sooo cuteeee' and another said, 'That's a cool little tan - he's super cute Sam!'
But other social media users challenged the model and The Mummy Diaries star on how much sun protection she had given her 16-month-old son, claiming that 'ANY sun colour is a form of burning'.
Reacting to a fellow follower that asked Sam what sun protection she uses on her little boy's skin, a commenter said, 'not alot judging by the colour of him. So much sun exposure is so damaging for such young skin, poor little baby. She should know better.'
Another user replied to fans that had congratulated Sam on her child's tan, saying, 'that's just an uneducated misinformed response. ANY sun colour is a form of burning. There is no such thing as colouring "safely" please check the medical guidelines in the NICE website for your information before you post such ignorant dangerous nonsense.'
Another commenter agreed, 'actually there's no such thing as colouring safely, if you go brown/ light brown, you have burnt and damaged your skin.'
However, some fans jumped to the 26 year old's defence, with one pointing out that going brown in the sun seems to run in the family, 'Not necessarily, some people tan very easily. It seem like Sam take a very good tan so he probably takes after his mum x'
How much sun protection do you put on your children? Would it worry you if they appeared to get a sun tan? Tell us in the comment box below!