'It's a shame she puts her children at risk' Sam Faiers warned by fans after posting picture of Paul and Rosie
Sam Faiers has divided fans over her latest holiday snaps of her children.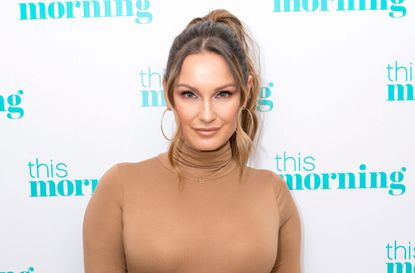 Sam Faiers has divided fans over her latest holiday snaps of her children.


The mum-of-two has come under fire after sharing an image of her two-year-old son Paul and her seven-month-old daughter, Rosie, with bronzed complexions as they enjoy a family holiday in an exotic location.
Both kids are sitting in a buggy, smiling adorably at the camera with Paul sporting an all over golden tan, while Rosie looks slightly flushed with rosy cheeks.
But many fans appear to be outraged at the image and have warned Sam about the 'dangers' of exposing her young children to the sun.
One fan commented on the Instagram picture: 'No child needs a tan at that age. sorry Google how dangerous it is for children to have full sun exposure like in that heat.
'They don't even have hats on half the time in pictures. Anyway her kids let her deal with the problems it causes in the near future.'
TESTED: Best and worst sun creams
Another moaned: 'Kids that age should not have tans!!I'm sorry but my opinion I am not a hater. I like Sam but it's a shame she puts her children at risk. Its not healthy to let kids have sun exposure that age'.
A third added: 'Poor little Rosie must be very uncomfortable with burnt skin. Poor little love x'.
While other parents argued that it is essential for children to be exposed to vitamin D and defended Sam against the parent police.
One said: 'My son wears factor 50 but he only has to be in the sun 10mins an he goes brown has skin like me an his dad. She isn't putting her kids at risk they have a healthy glow not burnt at all. U can't keep them out the sun every second vitamin d is good for them.'
Another agreed, adding: 'Actually vitamin d is essential at that age. My boys have factor 50 on always and cover /shade at hottest time of day. They only have to be outside and they just change colour.'
A third added: 'My little girl wears factor 50 whenever she is in the sun and still gets a tan. Sun cream doesn't stop someone from tanning. Neither of these children look burnt to me…'
Sam and her partner Paul have been enjoying a sun-soaked break at Beaches Turks & Caicos with their children, sharing multiple adorable snaps of the family enjoying their break.
A Freelance Writer and Content Editor, Jenni has been working on the women's lifestyle team at TI-Media on and off for over three years. She writes about your favourite celebrities and TV shows so you never miss an update. Jenni also writes beauty news and features - so for all of your skincare and make-up needs, drop her a line.